Context-space mapping with Enterprise Canvas, Part 2: Business context
In the previous post in this series we did a quick review of context-space mapping and the Enterprise Canvas, and set out this into practice with a real-world example that, for me, is very close to home: rethinking my own enterprise-architecture consultancy business.
We started at the top layer, aiming to identify the core 'enterprise' within which I work. From exploring my own professional history, it became clear that the main focus of my work is about enterprises themselves, of any size, and always with the aim of enhancing enterprise effectiveness. From that, we ended up with an initial enterprise-descriptor – or 'vision' – of "creating more-effective enterprises".
Notice, though, what's happened right here, in that paragraph above. In trying to summarise that initial rather clunky vision-statement – 'creating more-effective enterprises' – we've accidentally hit upon a better one: 'enhancing enterprise effectiveness'. It reads better, has a smoother flow to it, a poetry almost. It does describe what I'm passionate about – and finding that passion is central to the success of an enterprise. And 'enhancing' is actually a much more accurate term for what I do: I don't often create enterprises in the sense that, say, an entrepreneur would do, but I do work to enhance their effectiveness. So note that this process is typical of what happens in context-space mapping: for example, we arrive at a 'solution' – in this case, the initial 'vision'-descriptor – which itself quietly dropped us back into the 'sensemaking' space. So the trick here is to notice what's happening, notice these little serendipitous events – and learning how to do that is a real skill in itself. To quote one of my favourite books, William Beveridge's The Art of Scientific Investigation:
If these discoveries were made by chance or accident alone, as many discoveries of this type would be made by any inexperienced scientist starting to dabble in research as by Bernard or Pasteur. The truth of the matter lies in Pasteur's famous saying, "In the field of observation, chance favours only the prepared mind." It is the interpretation of the chance event which counts. The role of chance is merely to provide the opportunity and the scientist has to recognise it and grasp it.
Anyway, that's what we now have as the 'row-0' or 'Enterprise' layer for the Enterprise Canvas model of my own enterprise:

Now what? Very pretty and all that, but what do we do with this?
At this point we need to do brief reprise on layering and the Enterprise Canvas. Each entity described in an Enterprise Canvas model is considered to be in just one of seven distinct layers of abstraction, summarised as follows:
row-0, 'Enterprise': consists of a single entity summarising the overall enterprise, its vision and core-values
row-1, 'Scope': consists of lists of core entities, such as key assets, key functions, capabilities and services, key events, key players in the enterprise, etc
row-2, 'Business-model': describes roles and relationships between the key entities in scope
row-3, 'System-model' (aka 'Logical model'): includes attributes and events etc to describe more detail about generic 'families' of options and 'platform-independent' solutions
row-4, 'Design-model' (aka 'Physical model'): specifies 'platform-dependent' implementation-details, such as specific methodologies, technologies etc
row-5, 'Action-plan' (aka 'Operations-model'): specifies individual context-specific instances for final work-plans, such as work-rosters, individual system-configurations etc
row-6, 'Action-record': detailed records of actual events, actual configurations etc at a specified (past) point in time
(The numbering starts at 0 rather than 1 for compatibility with the well-known Zachman framework, with which layers 1-5 here match almost exactly. Row-0 is unchanging – or should be, because if it does change, it ceases to be the same enterprise. Rows 1-5 represent various abstractions or concretisations of a potentially-alterable plan for the future; row-6 represents the unchangeable past.)
Three points to note about where we've gotten to so far.
One is a reminder that although I've chosen this as the definition for 'my' enterprise, it's more accurate to say that it chose me: looking at my history and my natural focus and the like, this is the enterprise that I am actually working in, whatever I might think otherwise. Given that that's the case, it's more sensible all round if I become more explicit and intentional about aligning my work with this enterprise. And whether the 'organisation' in scope is made up of just one person or many millions, the same principles apply.
Next, this enterprise-definition is unchanging: it's the same for to-be, as-is or as-was. (If it isn't the same in each case, it's not an enterprise-definition in the sense that we need here.) As in the ISO-9000 standard for quality-systems, this 'vision' provides a permanent anchor for everything that is done in the enterprise. When you work in a business-context that changes on a moment-by-moment basis, it can be very useful to have something that you know will not change whilst you're working on it…
And note that there's been no reference yet to the market, to money, or to the organisation itself. That's intentional – and needs to be that way, too. (As you'll see later, money doesn't even rate a mention until we get to 'System-model', another three layers further down.) The point here is that the enterprise just is: it's just an idea, an emotive idea. But until we have that idea firmly in place, and the intermediate layers properly in place too, everything else is at risk of becoming unstable, falling apart without warning – as we can see happening all too often in many large organisations. Yes, the sensemaking and decision-making will often get a great deal messier further down the layer-stack: but for now, in these rarefied levels, all we need to do is Follow The Process.
Anyway, time to move on, to look at the scope in which our organisation exists.
Identifying the scope
In strategy-development, we typically begin 'top-down', working our way down through the layers, in a kind of idealised view of the world, until we hit the real-world constraints coming 'bottom-up' -which will usually (and usefully!) force us to start being 'realistic'. So now that we have our row-0 for the Enterprise Canvas, we'll continue going top-down for a while – which takes us to row-1, 'Scope'.
Row-1 is always just a list – nothing more than that. Later on we'll probably come back to make lists of key-assets, key-functions, key-events and so on, but for now all we'll need is a list of other players – or types of players – within this enterprise. In other words, who else is likely to be interested in the enterprise of 'enhancing enterprise effectiveness'?
The natural tendency at this point is to start with the as-is, and list my existing customer-groups. I often describe myself as a 'toolmaker to consultants', especially in the enterprise-architecture/strategy space, and at first glance it seems that there isn't much to show: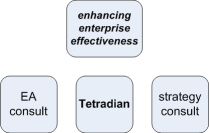 What's worse, that market is tiny – probably no more than a few thousand of us worldwide – and, if we jump downward to the Enterprise Canvas row-2 for a moment, most of those that I and my colleagues know are not only our potential customers but potential suppliers and potential competitors as well. Sure, we also do some consultancy, either in setting up enterprise-architecture capabilities or running workshops for executives and in-house consultants – but again, one of the explicit aims there is that we're training my own future competition each time we do so. And although IT-oriented 'enterprise'-architecture is quite well-known, true whole-of-enterprise architecture isn't at all well-known as yet: hence although the need for that kind of work is enormous and all-too-evident, the demand isn't there – and won't be, until we've created enough awareness of what it is and why it's so important. The one saving grace here is that the emphasis in this market is always on quality, not quantity: those organisations who do understand what we do are well aware of what it's worth to them, and are willing to pay for it, so that even a short assignment can fund a fair amount of 'unbillable' research and development for the future.
So far, so good – sort of – but in fact this would be setting our sights to far too narrow a scope. Our current market may seem tiny, but by definition the overall enterprise includes anyone with any interest in enhancing enterprise effectiveness. So for a start, it includes almost every consultant and in-house staffer working at a strategic, tactical or operational level to improve just about anything in the organisation: IT, efficiency, innovation, quality, production, skills and competencies, safety, security, risk-management, disaster-recovery – if you can give it a name and it's anything to do with organisations, it's likely to be in scope here. What's even better is that all of these other people are doing work that's different from ours – so not only may there be potential synergies there for us, but they're also unlikely ever to be our competitors.
Yet even this is still thinking far too narrow. Who else would be interested in 'enhancing enterprise effectiveness', where 'enterprise' means anything that the organisation might touch, and 'effective' means that the organisation would be more efficient, reliable, elegant, appropriate, integrated, in just about any sense of those words? The short answer is "just about everyone"…
Executives would be very interested. So would investors. Regulators. Government. Business-partners. Business-clients. Standards-bodies. Environmental activists and other pressure-groups. The countries and local communities in which the organisation operates. Even competitors would be interested, if it helps to create a larger or more stable market for everyone. That's not a small enterprise at all: it's huge.
So far, this is just a list – a list of players in the enterprise of 'enhancing enterprise effectiveness'. It doesn't tell us anything as yet about the relationships between these players – which is what I'll need to know if I'm to design a viable business-model within the scope of this enormous shared-enterprise. But that's fine – that's what we explore in the next layer of the model, which we'll look at in the next post. For now, though, it's useful just to bask for a moment in the plain fact that the enterprise – and market – that I'm dealing with is much, much larger than I'd previously believed, providing many more potential opportunities for my business if I make the effort to find them. Food for thought indeed…