Where's the best place for enterprise-architecture?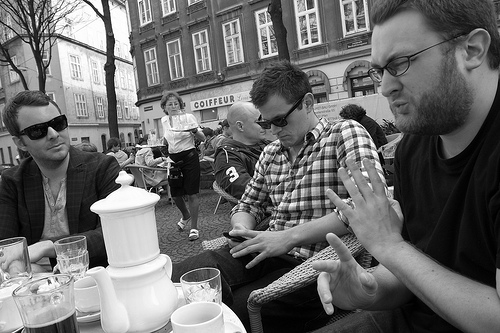 What's the best kind of place to do enterprise-architecture and similar work? What are the best environments, for which parts of the work? And why?
This was a fun set of questions that came up in my Twitterstream earlier this week. We'd started from the age-old problem of enterprise-architecture toolsets being used as a substitute for thinking and exploring:
RiczWest: When, oh when are people going to learn that "having the right tool" does NOT give you an Enterprise Architecture! #entarch
ufarrochil: Too right about the tool alone not giving #entarch. SO many more aspects to it and I work with a leading tool vendor!
ScottDavis: my TOGAF trainer stated 'a fool with a tool is still a fool'.
ufarrochil: Yep. You can have the finest Gartner-leading tool but if you're fundamentally stupid you'll never have #entarch
RiczWest: "my TOGAF trainer stated 'a fool with a tool is still a fool'." | Maybe we had same trainer! 😉
And then, yes, (my fault! 🙂 ), we got happily sidetracked:
tetradian: often the most valuable #entarch tool is pencil and paper (preferably in a good cafe 🙂 )
ufarrochil: Cafe? Surely you mean "pub"?
ScottDavis: pubs are for extreme EA
tetradian: pubs tend to be for drinking, not thinking? 🙂 (and more likely the drawings get wet, too… 🙁 )
But yes, it's got me thinking about this: where do I do my enterprise-architecture work? It's not just at a desk, or a whiteboard: there's a lot more to it than that…
First part is what we might mean by 'enterprise-architecture work' anyway. For me it's a lot of different things, all weaving together:
think about things (gosh-there's-a-surprise… 😉 ) – in particular, about how things (and people, of course) connect up with each other, work together, support each other
talking with others about ideas, and working with them to put those ideas into practice
working with others to help them find their own ideas, and put those into practice
acting as 'translator' between different groups of people, to get them to build shared ideas and practices together
So where's the best place for each of these activities? For me it's somewhat as follows:
home-office (whiteboard, notepad, computer): think about things, or write about things
quiet cafe (on my own): getting unstuck in thinking about things, or sort out a bigger picture
wandering around in town (also usually but not always on my own): ditto about getting unstuck or bigger-picture, or creating space for serendipity
cafe or pub-lunch (with one or maybe two colleagues): chew over ideas and overall direction
office-cafe (or sometimes a quieter bar): discuss ideas with a team, or get two or more groups talking with each other
breakout-room (whiteboard etc): brainstorm models, get a group to 'think sidewise' about their context (often as a follow-up to a cafe get-together)
'unconference' and/or networking session at conference: getting-to-know, connecting virtual to face-to-face, basic serendipity and idea-sharing
random conversation (in the street, in a cafe, on a bus or train or plane): core serendipity, building broader picture
And there are all the 'virtual' places, of course: Twitter, G+, LinkedIn, this blog, and so on. (Except I must admit I've largely given up on LinkedIn groups these days: too many timewasters with more ego than knowledge or sense… 🙁 )
So, what are your places, both 'real' and virtual? What kind of place works best for you, for what purpose, and in what way? Perhaps even more important, what kinds of places don't work for you, and why?
Over to you for your comments and experiences, perhaps?
—
Image credit: Johannes explaining the world, by Igor Schwarzmann on Flickr, under a Creative Commons BY-SA 2.0 licence.