The future of work, and money
Seems lots of people these days are writing about 'the future of work' – and even putting some of that thinking into practice, too. But is that thinking going anything like deep enough? Hmm… – not sure about that…
So let's be a properly provocative about this, yes? Take the exploration to where it really needs to go?
Okay, here goes…
There's an elephant in the room, regarding the future of work.
It's called money.
The reason why it's an elephant-in-the-room is that almost no-one that I've seen writing on 'the future of work' so far has questioned an assumption that all work is inextricably interwoven with money – as we'll see in phrases such as:
"work is what I do for my pay"
"work is what I do to pay for my play"
Ideas of that kind, anyway. Yet it's an assumption that has some truly horrible consequences:
People skew their work-choices, solely because of money.
People spend their entire careers doing something they hate, and even that they know will hurt themselves and others, solely because of money.
People whose work does not focus primarily on money – such as nurses or police or production-staff – are deemed to be worth less in monetary terms, solely because of the distortions created by the societal over-emphasis on money.
People whose natural capabilities do not fit well with the 'exchangeable-commodity' model on which the money-system is built – and I'd include myself and my own work amongst them – will find 'making a living' in a money-based economy a perpetual struggle.
People whose current responsibilities preclude making themselves available as 'exchangeable commodities' – such as parents or other carers – will find 'making a living' an even harder struggle.
People whose skills and abilities are no longer considered 'tradeable' – in other words, the so-called 'unemployed', or, worse, 'unemployable' – are somehow deemed almost not to exist, because their existence cannot be converted into money.
This also leads to some utterly absurd ideas about the definition of 'work': for example, looking after someone else's children is 'work', but doing the exact same actions to look after one's own children is 'not work'. Huh???
Kinda odd, right?
And that's before we even start to look at the dysfunctions implicit in the way in which we're often only deemed to be 'working' when we're 'making money' for someone else. (It doesn't matter whether that 'someone else' is the boss or the infamous '1%' or shareholders or pension-funds or tax-beneficiaries or pensioners or welfare-recipients, it's still someone else.)
Definitely 'kinda odd', then…
Yet from a futures perspective, what makes it all really odd, and really in need of an urgent rethink, is that the only viable future of money is that it has no future. To put at its most blunt, the whole concept of money – or rather, the concept of 'personal possession' that underpins it – is literally not compatible with human survival: somehow it has to go, or we won't survive.
Yeah, that serious…
I've gone into the detail of this in some depth in various posts elsewhere on this blog, such as the post 'Four principles – 3: Money doesn't matter', so I won't repeat it here. Probably the simplest way to visualise the overall problem, though, is as follows:
I'll admit that at present all of this is still somewhat of a 'futures' matter – crucially important, yet not yet requiring immediate action. My best-guess right now is that we can perhaps put off facing up to it for maybe twenty years from now, maybe even thirty. But we can't keep putting it off indefinitely: as I understand it, the global-scale changes that it implies must be complete by no later than somewhen around the end of the current century, otherwise anything resembling human civilisation – certainly at a global scale – would be gone forever.
In short, ouch… – at a literally global scale.
Which brings us back to the futures of work – because if all of our current rethink about the futures of work is still tangled up with assumptions about money (or any other form of currency), which itself is something that not only doesn't work but cannot work into the indefinite future, then yeah, there might just be a problem there…
So, just as a thought-experiment for now, let's try going right back to first-principles, and think a bit more deeply about work itself, and how it intersects with human society.
The first challenge is that most of those discussions about work have a worryingly-narrow concept of what 'work' actually is – hence "work is what I do to pay for my play" and suchlike. Instead, if we go back to first-principles, then in physics the definition of 'work' is that 'work is the rate at which energy is expended'. And that definition also makes sense in human terms: to do anything, we need to expend real energy, initially sourced in biochemical form as food.
But what is 'work', in human terms? In terms of energy needing to be expended, digging a ditch is work; solving a technical problem is work; calming a fractious child is work; reclaiming hope from despair is work. Different forms of energy for different types of work, we might say – yet the ultimate source of that energy in each case has much the same biochemical base. In that sense, we could reasonably assert that human work is anything upon which human energy is expended.
To make sense of the complexity, it's probably simplest to start off by thinking in terms of four distinct dimensions of work:
physical work
virtual, mental or informational work
relational or emotional work
aspirational or spiritual work
Since most work encompasses multiple dimensions at the same time, it's probably useful to envision these dimensions in tetradian-relationship with each other, with each type or item of real-world work representing a region within the respective tetrahedral space: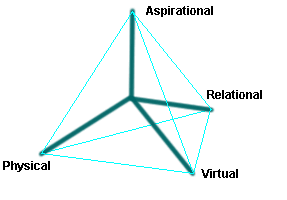 Each item of work thus acts on the respective combination of the asset-dimensions, as described in various places here such as the post 'Fractals, naming and enterprise-architecture':
physical asset-dimension: physical objects, physical 'things' – independent, tangible, exchangeable, alienable
virtual asset-dimension: data, information – nominally-independent, abstract/non-tangible, non-alienable, 'exchanged' via copy
relational asset-dimension: relations/connections between people – interpersonal/dependent on both parties, both parties are tangible, non-alienable, non-exchangeable but potentially replicable
aspirational asset-dimension: anchor-point for 'belonging', motivation etc (e.g. as represented by brand) – personal / dependent on both parties; one party tangible, the other (e.g. brand) usually not; non-alienable, non-exchangeable but potentially replicable
The work itself enacts the respective variations on a theme of Create / Read / Update / Delete for the asset-dimensions of the items being worked on.
In effect, that gives us both the 'What' of work and, by extension through service-modelling and suchlike, the 'How' of work. All of which is fairly straightforward, once we use that kind of dimensional mapping.
(The 'Where' and 'When' of work is wherever and whenever it happens, of course. There's been lots and lots and lots of discussion around that, in relation to 'the future of work', but all of it seems kinda moot if we haven't first bothered to understand what work actually is…)
Where it gets a lot trickier is around the 'Who' of work and, even more, the 'Why' of work…
The purposive aspects of 'Who' and 'Why' relate to how we decide whether work is 'useful' or not. A lot of activity may do 'work' in the sense of causing changes to assets, but would often be dismissed as ineffectual, destructive or otherwise pointless and purposeless. There's a real need for a purposive element here, that useful human work is anything upon which human energy is expended 'on purpose'.
This in turn gives us a reference-point against which we can assess efficiency and effectiveness:
work is efficient to the extent that it uses the least energy (or, more accurately, the appropriate minimised mix of energy-types) to achieve or reach towards the desired outcome
work is effective to the extent that it achieves or reaches towards the desired outcome, with minimal variance or collateral-impact other than that desired outcome
The purpose – the desired outcome – represents the 'Why' for the work. But it's crucial – yet too often ignored – to note the 'Who' of that work: not just who does the work itself, but who gets to choose, or not-choose:
Who gets the 'rights' to choose the purpose?
Who does not get the 'rights' to choose the purpose?
Who benefits from achievement of the purpose?
Who does not benefit from achievement of the purpose?
Who does the work needed to achieve the purpose?
Who does not do the work needed to achieve the purpose?
Things can get decidedly messy when those who choose the purpose, and who benefit from achievement of the purpose, are not the ones who do the work. (Hence a lot of important and very-necessary yet too-often-sidestepped questions around hierarchies and shareholder-privilege and the whole concept of the 'limited-liability company' in which shareholders reap all of the benefits but do none of the work and have none of the responsibilities. There's a nastier name for that kind of model: it's called 'slavery'… )
Which brings us to the motivational aspects of the 'Who' and 'Why' of work. What we now know, from Dan Pink and others, is that there are several key strands to this, including:
autonomy
mastery
self-purpose
shared-purpose
'fairness'
It's not quite as simple as those bald terms, of course: for example, concepts such as 'autonomy' and 'fairness' have all manner of cultural-overtones. Overall, though, all of this would point towards an understanding that useful work is anything upon which people choose to expend their energy, on purpose.
But the one strand that isn't part of motivation towards quality-work – in fact, past a certain minimum level, has repeatedly been shown to be negatively-correlated with quality-work – is money. The reasons are complex – for example, focussing on money distracts attention away from factors that contribute to quality – but the key point remains that money itself is exactly what doesn't work as a viable basis for determining the value or purpose of work.
Which makes it kind of unfortunate that, to many people, 'making money' is the sole basis and reason for an economic system of work.
Oops…
And yes, it gets worse:
the nominal basis for the money-economy is the transfer of exclusive 'rights of possession' in exchange for monetary 'compensation'
exclusive 'property-rights' only make sense for asset-types that are transferrable (I can give it to you) and alienable (if I give it to you, I no longer have it)
of the four asset-dimensions, only two (physical, virtual) are transferrable
of the four asset-dimensions, only one (physical) is alienable
The way that the money-economy 'resolves' all of this is a disastrous mess of kludges – all of which pretend that everything is a physical-like asset, an exchangeable, alienable 'exclusive property', amenable to monetary-style 'valuation'. Hence, for example, the smoke-and-mirrors fakery and fraud around so-called 'intellectual-property', and the fundamental flaws and falsehoods inherent in concepts of 'goodwill' and the like.
We can just-about get away with those kludges in contexts where the core-asset-dimension is bundled together with something physical, such as the information literally bound into a physical book, or the information of a film available only in a physical cinema. But once we 'de-bundle' the asset-types – as in a so-called 'digital-economy', where information is accessible in non-physical form – then the whole illusion breaks down, and we end up with absurdities such as 'digital rights management', which attempt to treat pure information as if it's physical. Which it isn't.
Oops…
In practice, whilst the money-economy may run on exchangeable-assets (physical and/or virtual), ultimately it depends on non-exchangeable assets (relational and/or aspirational) such as interpersonal-relations and, especially, trust. For a viable economics, we need to model services that act on non-exchangeable assets just as much as the exchangeable ones – otherwise the overall economy won't work. And we need to model those interactions in their own terms – and not try to force them into a frame in which, by their nature, they cannot fit. Failure to to understand how non-exchangeable assets work – and the very real necessity for the work that acts on those assets – is a very common cause of 'inexplicable' wicked-problems in business and elsewhere.
So whenever we look at the future of work, we need to be clear that human work is anything upon which human energy is expended, and useful human work is anything upon which people choose to expend their energy, on-purpose – with 'useful' and 'choose' both being more than a bit problematic at times in a dysfunctional society's equally-dysfunctional economics…
Yet we also can't ignore the impacts of 'the elephant in the room' – the money-system, monetary-economics, the possession-economy. As enterprise-architects exploring the future of work, we should not take those constraints as a given – not least because it doesn't work. At some point in the not-too-distant future, we're going to have to herd that elephant out of the room, and set up something that actually does work, for everyone, at a truly global scale.
To me at least, the only viable future of money is that it has no future.
Which in turn implies that tying the future of work to something that has no future is Not A Good Idea?
Which kinda suggests that we need to explore this a bit more carefully than many folks seem to have done so far…
Seems like it's something to think about, anyway.