On business-architecture and enterprise-architecture – why this matters
Okay, so I've ranted somewhat that placing a supposedly-'new' business-architecture 'above' enterprise-architecture is a bad idea, and added some further detail on how and why I think it's a bad idea.
But why does this matter? To anyone, really?
Well, first, it's that there are some very real dangers in business-centrism. Jumping from IT-centrism to business-centrism is right up there in the upper realms of Definitely Not A Good Idea…
(For more on that, see the section on business-centrism in the post 'Enterprise-architecture – a status-report'.)
To get round that mistake, we need always to remember that in a viable architecture, everywhere and nowhere is 'the centre of the architecture' – all at the same time.
(See the post 'RBPEA: The dangers of 'anything-centrism' for more on that.)
Yet the real reason why this matters to everyone – and not just ivory-tower 'EA-experts' – goes a little bit deeper.
The real reason is stakeholders.
Who they are.
What they want.
What they'll do.
What they'll do to us, if we screw up. (As they perceive it – not us.)
Yeah, those stakeholders…
Ouch.
Does that get your attention now?
In which case, how do you identify your stakeholders?
(And no, that's not a trivial question, is it?)
If we're working at a solution-architecture level, this might not sound like a big deal. Who are your stakeholders? Well, there's the project-sponsor. There's the more senior people in the internal client. A consultant or two, perhaps. A few middle-managers somewhere; if you're very unlucky, maybe even someone on the exec. But that'd be about it, usually. Pretty much all of them inside the company, anyway.
But as we move outward towards an enterprise-architecture level, holding onto the same assumptions about stakeholders is, again, Definitely Not A Good Idea…
That's because the real definition of 'stakeholder' isn't just 'some business-person who thinks they're important'.
The real definition is that a stakeholder is anyone who can wield a sharp-pointed stake in our direction.
And if we ever forget that – or if we ever forget just how many stakeholders we really have, out at the enterprise-architecture level – then we'd be heading blithely into a whole new world of pain…
Let's describe this visually.
At the start, we might we sit in the comforting self-centric view that the only stakeholders that matter are those inside our own organisation:

But when we start looking at our transactions, we might realise that, ooh, actually, suppliers and customers are, yeah, kinda stakeholders too, aren't they? – yeah, they might wield a sharp-pointed stake at us too:

And what about prospects and competitors and regulators and standard-bodies and trainers and recruiters and journalists and other folks like that? – we don't have transactions with them, sure, but we have interactions with them that can matter a lot. So yeah, right, that's another whole load of sharp-pointed stakes we have to deal with:

If we think enterprise-architecture is just 'business-architecture plus the IT-stuff', that's probably where we'd stop. But that'd be a mistake – a big mistake – because we need to go a whole lot further…
For a start, there's the shareholders, aren't there? – the 'owners'? They kinda connect in a more indirect way, through a different set of channels, but we definitely better not forget about them as stakeholders: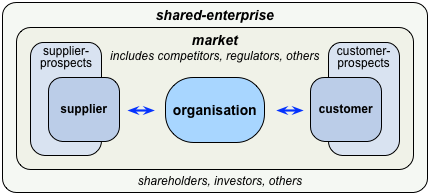 Yet if we can break free of 'The world's dumbest idea', and recognise that there's a lot more to business than just the money, we can then see that shareholders and suchlike are just one special-case amongst a whole myriad of other forms of investment in the enterprise as a whole, as a shared-story.
That's when we start a more systematic exploration of our business-context – and begin to grasp just how many types of stakeholders we really have:
And, yeah, every single one of them has their own sharp-pointed stake held in hand.
Which they can – and will – wield in our direction if we get it wrong…
See why this matters now, yes?
See now why business-centrism in enterprise-architecture might perhaps be Not A Good Idea?
You Have Been Warned…