More on chaos and Cynefin
Another 'exploratory', following on from the previous post on 'Complexity, Chaos and Enterprise Architecture', in terms of the Cynefin framework, and again developing out of Dave Snowden's excellent webinar on complexity and 'abductive reasoning'.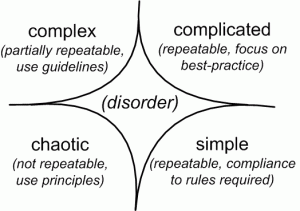 Cynefin is probably one of the most useful conceptual tools that I hold in my 'consultant's toolkit'. It is an enormously powerful and enlightening framework to understand the relationships between the simple, the complicated and the complex, and to understand why long-proven approaches such as Taylorism and Six Sigma can sometimes (or often, these days) go spectacularly wrong.
Yet for several years now – in fact pretty much since I first encountered Cynefin – I've been concerned that there's been very little attention paid to the role of the Chaotic domain. So that's the theme I want to tackle here: how may we reclaim the Chaotic, to make Cynefin more complete?
(I'd better say upfront that there'll be a fair amount here that Dave and others may disagree with, sometimes quite vehemently – and that's okay, because this is definitely a 'work in progress', and probably with gaping holes in the reasoning in places. I need that critique if this is going to work in practice. In no way do I consider that any of the other work in Cynefin is somehow 'wrong' – particularly not the work that Dave and others have been doing in the Complex space, which I regard as crucially important in business and elsewhere. All I'm suggesting here is that perhaps we need to approach the Chaotic domain with the same degree of discipline as we do with the others – and not simply 'run away' to the Simple or the Complex as soon as we hit the Chaotic, which is about all that standard Cynefin offers at the moment.)
This one will again be long (my apologies…), but should be useful to anyone who's familiar with Cynefin, or has any practical concerns about how to handle inherent uncertainties in business and elsewhere. More after the 'Read more…' link, anyway.
As I understand it, the Cynefin framework describes a 'diagnostic/solution space' – four distinct categories of tactics to filter impressions of an unknown ('disordered') context, so as to support sense-making and then decisions for appropriate action. To put it at its simplest if perhaps most tangled, Cynefin is a decision-support framework to support the decisions needed to support subsequent decision-support. 🙂
These four sense-making modes or 'domains' are usually presented in flat two-dimensional form, as in the diagram above. But for reasons I explained in the previous post, they also fit well with the traditional Western 'four elements', which, roughly speaking, equate to physical, conceptual, relational and aspirational. These represent intersections of fundamentally different properties:
physical: entity or entity-property, transferable, alienable (if I give it to you, I no longer have it)
conceptual: entity or entity-property, transferable, non-alienable (if I give it to you, I still have it)
relational: exists between entities, not transferable, requires active support from both ends
aspirational: exists between entities, not transferable, requires active support from one end only (but may be dropped at the other end)
(In business, a simple example of an aspirational property is a brand: the commitment to the relationship comes from one end only – the 'consumer [I hate that term, but it does apply here…] – but the relationship is destroyed if the brand is lost, and may not easily be substituted fro another.)
If we view Cynefin from that perspective, the four domains can also be understood as dimensions that mark out a 'solution-space' surrounding the initial 'disorder' of the unknown: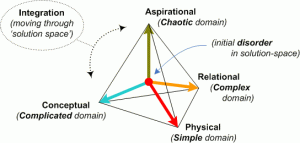 To find appropriate techniques for solutions (responses) for the context, we need to be able to move around the solution-space in an intentional, integrated way. The Cynefin dimensions align somewhat with the 'four elements', so we can use the latter to suggest probable places to start: if we're dealing with physical things, Simple is probably best, if it's conceptual we would start with the Complicated, and so on. But the catch is that pushing hard in one dimension tends to preclude use of the others – hence Taylorism, which works so well in the predictable physical world, would instead be a flat-out disaster if we assume that it will work just as well in the complex messiness of interpersonal relations (the Complex domain).
Which brings us back to Dave's slide from the seminar, about the lifecycles of scientific modalities in the Cynefin space:
Dave here implies that there's something close to a linear development of management-science, with each modality superseding the next. But that's actually not what happens: instead, each new modality becomes the 'scientific fashion' for a while, following much the same adoption-pattern as the well-known hype-cycle. The slide above only shows the first part of the hype-cycle, the initial trigger, and then the rise to the 'plateau of inflated expectations' – where attempts are made to use the techniques for everything (as in the old adage that "if all you have is a hammer, everything looks like a nail") – followed by the descent into the 'trough of disillusionment'. In the later part of the hype-cycle, we reach the 'plateau of productivity' – which, in essence, means that we learn to use the techniques only in contexts where they are appropriate. Hence, again, Taylorist time-and-motion analysis does work very well in certain specific contexts; likewise Six Sigma, and so on.
The danger with the 'ascent' notion implied in the slide above is that it risks leading us to the same kind of deluded 'holier-than-thou' supremacism. In other words, much the same that we can see, for example, in Don Beck and Ken Wilber's so-called 'Integral' version of Spiral Dynamics – initially a set of tools that are very useful in certain specific contexts, but one that's been mangled beyond sense and context into an overblown cult-like 'Theory That Explains Everything', that has understandably triggered Dave's ire on more than one occasion. Yet we can see the same risk also applies here: that initial excitement and exuberance at breaking free of the constraints of the 'old regime' are what drive the mistaken millenialism of the hype-cycle. And would not be helpful if Cynefin too becomes a cult, in the same way the Taylorism and Six Sigma have done in the past.
One way to prevent that from happening is to recognise that the S-curves in the slide aren't a linear development: rather, they're explorations into solution-space, with a specific emphasis in each case along a specific dimension of that solution-space – Scientific-Management for Simple/Physical, Systems-Thinking for Complicated/Conceptual, Dave's Sense-Making for Complex/Relational, and so on. Right now, it's the "and so on" bit that interests me – because right now there isn't an equivalent science for the Chaotic/Aspirational segment of the solution-space – yet it's something we definitely do need.
The reason why it's important should become clear once we look at Cynefin in relation to time: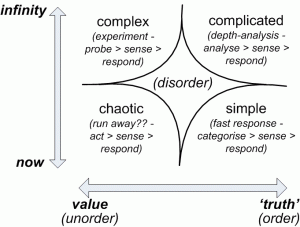 In real-world practice, the closer we get to the real-time of 'NOW!', the less time we have to think – all we have time for is to do. In effect, this forces us towards a very limited range of choices across a spectrum of 'truth' to 'value' – in Cynefin terms, either Simple or Chaotic, because the time needed for Complicated analysis or Complex experiments is a luxury we simply do not have.
But Cynefin at present does not have any means to operate within the Chaotic domain. Instead, we're told, we must 'act > sense > respond', either 'taking control' so as to push the context into the Simple domain, or grab hold of a few random nominally-unrelated items as the content for subsequent abductive reasoning in the Complex domain. As can be seen in the later part of the seminar, Dave has done brilliant work with fitness-landscapes in his SenseMaker software to bring the Complex closer to real-time – but it's still not actually the in-the-moment 'now-ness' of the Chaotic, and arguably never will be, because by definition the assessment always happens after rather than during the event.
So we need something in Cynefin to fill that hole – because on the one hand the Simple-domain 'solutions' are likely to be too simplistic, and on the other we don't have the time we need to do anything else.
As for why we need it, contrast marketing with sales.
Almost all the classic marketing techniques sit either in the Complicated-domain – trend-analysis, market-segment analysis and so on – or somewhere near the Complicated/Complex border – test-marketing, the dreaded 'focus groups' and the like. More recently there's been a lot more emphasis on viral-marketing, 'social CRM' and the like, which is more solidly into the Complex-domain regions of the solution-space. The point is that it takes time, and it works with large numbers of actual and/or potential events.
But at the point of action, sales is always dealing with 'market-of-one' – an individual quantum-decision to either buy or not-buy. Marketing helps us before that event; it will probably help us after the event; but by definition it can play no part at the immediate instant of the event. Each sale is an internalised quantum-event, a literally one-off decision in the midst of chaos – and no amount of external analysis or assessment is going to change that.
Using this concept of a Cynefin 'solution-space', the preferred approach for marketing/sales for most of the past century was to prevent the apparent 'need' for a decision – in other words, to 'take control' of the market, and force everything into the Simple-domain. A single monopoly for every industry; you can have any colour you like as long as it's black; no choice, other than to buy or not-buy – and marketing-pressure, peer-pressure and blanket advertising aimed to remove even that apparent choice. Yet these days that Simple option has been eroded by factors such as proliferation of vendors, globalisation and, especially, the internet – so much so that sales-folk might well say "it's Chaos out here in the market". In other words, it's shifted from Simple to Chaotic – from 'truth' to value.
(Hence, in my own field of enterprise-architecture, the importance of values-architecture, as summarised here, here and here.)
This is the point where Dave and I diverge, philosophically speaking.
Dave's background is in physics, and thence to cognitive-science. I would say that he is, without question, one of the few real masters that we have at present in applying that category of knowledge and experience to real-world problems. As someone with such a strong sciences background, I would imagine his natural reflex when faced with any methodological difficulty is to go back to 'truth', go back to the science – and in most cases, that's probably the most reliable approach to take. Yet by definition, it cannot succeed with the Chaotic domain, because in every science, all sensemaking is fundamentally dependent on repetition – and again by definition, there is no real repeatability in Chaos. The cross-over point varies from one context to another, but conventional physics suggests that Heisenberg uncertainty is only resolvable once we move above ten quanta or so; below that point, conventional 'truth'-based scientific analysis no longer makes sense. Dave in fact alludes to this in one of his comments to the previous post:
I have a strong bias towards the natural sciences and the Cynefin framework is built from a science based position. However … I have seen too many examples of dowsing not to believe it works in some way, I can also see that in all the cases it is a deeply embodied skill that cannot be taught. …  I also have to respect the fact that all controlled tests have failed to establish authenticity. This provides an interesting dilemma. On the one hand I have seen it work with water engineers, and with the man/jcb symbiosis that dug out the drive to the side of my house, on the other hand controlled tests have failed to validate. That means we have a really interesting anomaly that requires investigation – but it does not allow a strong claim for authenticity and the solution will [not?] be scientific.
Dowsing (or 'water-witching', in the US) is a good example of a Chaotic-domain context – one which we'll come back to shortly. Yet as Dave implies, it seems that the only available option in the scientific approach is to force an immediate break-out from the Chaotic domain, into somewhere where repeatability can apply. This would usually be a move to the Complicated domain, such as with statistics-based 'chaotic attractors' and the like; or, as Dave has demonstrated so well, into the Complex domain, with fitness-landscapes and 'outlier-detection'. But it still doesn't work on the Chaotic domain as itself: from the scientific frame, it seems that the only way we can work with Chaos is by not being there. Which, these days, is hardly a realistic option, because it's chaos everywhere. And yet we're still stuck with no way to fill that gaping hole in Cynefin's solution-space.
My own background is almost the opposite to Dave's. Although I majored in sciences all the way through school, at university-level I switched over to the arts: specifically, to graphic-design – typography and the like – which is why some years later I became one of the pioneers in creating what is nowadays called desktop-publishing. In essence I'm a technologist, not a scientist; I place much more emphasis and much more trust in usefulness than purported formal 'proof'. Hence perhaps unlike Dave, my natural reflex when faced with any methodological difficulty is to go to the 'value'-side of the spectrum – Complex or Chaotic – rather than the 'truth'-side – Complicated or Simple. Where Dave would, I presume, turn to the peer-reviewed journals, my reflex is to go back to first-principles, usually by direct observation of the context. I'll freely admit that in Complicated-domain contexts my approach is arguably less reliable than that of the scientist; but because it makes no assumptions about repeatability, it can work within the Chaotic domain on its own terms. That's the crucial difference.
The other key difference is that I approach the Cynefin frame not as a scientist, but as a methodologist – which is not necessarily the same thing! I've been working on various aspects of these themes for probably more than forty years; for example, it's almost a quarter of a century since I first published my book Inventing Reality, which addresses the same overall space in a rather different way. So when I first came across Cynefin, way back in 2003, I already had a lot of background to connect it with – and that background did include the Chaotic domain. For example, to me it makes useful sense to cross-map Cynefin with a variety of Jungian concepts: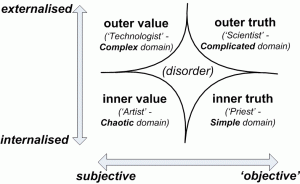 I suspect Dave might not approve of this cross-map, but the point is that it's useful; unlike a scientific context, it's neither necessary nor appropriate to claim that it is in some way 'the truth'. (Which from Dave's perspective it isn't, of course: it's doubtful that there's any direct scientific cross-map between the two.) And the reason it's useful is that this kind of cross-map gives us pointers as to how to fill that Chaotic-domain gap in Cynefin – by focussing on usefulness rather than 'truth'.
As Dave implies, dowsing is probably a good place to start. I've been involved with dowsing in various forms since studying with Keith Critchlow at the Architectural Association, many decades ago; I'm probably one of the very few people doing systematic methodological study of the field, and likewise one the few people who can formally identify the fundamental flaws  in every so-called 'scientific' study of dowsing to date by self-styled Skeptics. To put it bluntly, I do know what I'm doing there; most people don't (and many – especially from the so-called 'New Age' of the market – frankly don't have a freakin' clue… 🙁 ) Which means there's a real need for discipline there – and in many other contexts too.
So whilst Dave might be horrified at what I've done, in fact Cynefin provides a very powerful base-frame for a systematic approach to methodology in dowsing – including the Chaotic domain. (See the book Disciplines of Dowsing – you can download the full e-book for free from here. There's also a two-page reference-sheet that summarises all the basic principles and practice.) The same principles apply in other fields: for example, I've recently been working with a number of well-known archaeologists to develop formal methodologies for subjective archaeology. And the same principles also apply in business – as in the discussion above about marketing versus sales.
Very short summary from all of the above:
the Cynefin framework defines a 'solution-space' within which to select tactics to resolve problems in business and elsewhere
Cynefin, as currently defined, severely constrains the solution-space by providing almost no means to manage the Chaotic domain
if we include the Chaotic domain in a disciplined way, it greatly expands our range of options in the solution-space
So, how do we include the Chaotic domain? Here are a few suggestions to start with:
Don't panic! In the extremes of the Chaotic domain, everything and nothing is true; nothing is certain, nothing stays the same for long. Hence Douglas Adams' immortal catchphrase may prove very useful here… 🙂 Standard Cynefin asserts that the appropriate tactic here would always be 'act > sense > respond', to push us into another domain as quickly as possible: but that kind of panic-response may well lose us the information that we most need. Often the best advice here is the exact opposite of that: "Don't just do something – stand there!"
Find the still-point, 'the calm at the centre of the storm'. Every tradition asserts that there is such a still-point; every tradition also admits that finding that still-point ain't easy… Hence the importance of practice, practice, more practice, and yet more practice. Which brings us to…
Repetition. In the Complicated domain, doing the same thing and expecting it to come up with different results is considered crazy; but in the Chaotic domain, it's one of the few tactics that really helps. In a truly chaotic context, doing the same thing will always lead to different results: so here, repeating the same thing over and over provides us at least with something that will remain the same each time. That kind of repetition may technically be subjective, but it's about the closest that we can have to scientific-style 'controls' here. Repetition works.
Use principles as a focus. Principles provide a stable point of reference amidst the chaos. In the business-context, this is the vision and values of the organisation. (By which I mean 'vision' in the ISO-9000 sense, as a stable anchor for the quality-system – not the flaccid marketing-puff that's usually passed off as 'our vision', and about which Dave rightly complains.) "When in doubt, go back to first-principles": that will help a lot here.
Allow serendipity. In the seminar, Dave describes abductive reasoning as "the logic of hunches", a bringing-together of "seemingly unrelated items". In the Chaotic domain, it becomes clear that everything is related in some ways to everything else: the patterns that we find there – and that we then evaluate via abductive reasoning in the Complex domain, as Dave describes – are actually little more than our choices, about connections that we choose to perceive between 'seemingly unrelated items'. But we first need to create space for those 'unrelated items' to arise in the first place. In his classic Zen and the Art of Motorcycle Maintenance, Robert Pirsig describes this as 'fishing for facts'; and likewise William Beveridge includes chapters on the role of chance, the use of intuition, and the hazards and limitations of reason, in his equally classic The Art of Scientific Investigation. Yet to quote Louis Pasteur, "chance favours the prepared mind": in the Chaotic domain we create space for the unexpected to happen, yet prepare the space with principles, with repetition, and 'the calm amidst the storm'. But there's also one other essential instruction…
Listen. Probably the single most important advice for any consultant – and for any salesperson, for that matter. Stop. Don't talk. Just listen. "Nature abhors a vacuum": if you provide a 'still-point', a quiet calm, you may be surprised at what comes in to fill in the empty space. And very useful, too. Create the space. Listen. That's almost all we need to know about working in the Chaotic domain.
To conclude…
My apologies that this has been such a long post: I hope it's been worthwhile for you. But I guess what it comes down to is this:
Dave's view of Cynefin is, as he puts it, "built from a science based position". The advantage is that it is rigorous, largely context-independent, and firmly grounded in current cognitive research. The disadvantage is that, almost by definition, it can provide no real guidance on how to operate in the Chaotic domain.
My view of Cynefin is based in methodology-practice rather than formal scientific theory, and focusses more on individual difference and individual skill. The disadvantage is that it is less rigorous, and often highly context-dependent, hence arguably less reliable in the Complicated domain, and perhaps the Complex domain too. The advantage is that it does provide consistent means to operate in all domains, including the Chaotic domain – and hence can provide more options and opportunities in the overall Cynefin 'solution-space'.
Which approach is best? I would argue that it depends what you want to do: hence neither and both, really. But I hope this exploration helps in the choice of how to move around within the Cynefin solution-space, and that it provides some useful suggestions about other ways to use the real power of Cynefin.
Over to you for comments and suggestions, if you would?