New book 'The enterprise as story' is published
Also launched at the Integrated EA 2012 conference was my new book 'The enterprise as story':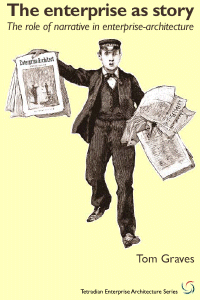 Full title: The Enterprise As Story: the role of narrative in enterprise-architecture
ISBN: 978-1-906681-34-0
Description:
Most current approaches to enterprise-architecture describe everything in terms of structure. Yet people work better with story than with structure – and people are the enterprise. As we expand the architecture towards a true whole-of-enterprise scope, we need to describe the enterprise as story. Story is everywhere in the architecture – even the enterprise itself is a story.
This ground-breaking book places story at centre-stage for the architecture, itself using a narrative structure to explore the role of narrative in enterprise-architecture. Via business story-structures such as the Market-Cycle, and genres such as We Sell Certainty, it shows how stories underpin every aspect of the enterprise – and how we can use story within the architecture to enhance overall enterprise effectiveness.
Topics covered include:
how to use story and narrative to assist in sensemaking for architecture
how to create engagement in the architecture through story
how to balance structure and story for better business results
how to identify and use business-story genres to guide overall architecture
how to change the organisation's relationships with its 'anti-clients' from business-risk to business-opportunity
how to use story-patterns to identify and resolve strategic business-issues
how to leverage your own experience to create stronger architecture stories
If you want to create real engagement in the architecture and the enterprise, this is one book you'll definitely need.
—
You can already order the printed book from Amazon.co.uk or Amazon.com, and presumably most other book-retailers as well.
(Ignore the comment on Amazon about 'Temporarily out of stock': Amazon say that for any print-on-demand book that they themselves don't produce… It's at most a couple extra days' delivery-time, that's all.)
I'll also be adding it to the book-set deals on Kevin Smith's Pragmatic EA bookshop: should be set up within the next few days, anyway.
And new – you can now buy the e-book from Leanpub, as a complete set of PDF (portrait-format), EPUB (for iPad, Sony-Reader etc) and MOBI (for Kindle).
I'll be doing a lot more publishing via Leanpub from now on: not just e-books of the existing books, but also smaller more focussed e-books on topics such as SCAN sensemaking and modelling with Enterprise Canvas. More details on that in an upcoming post, anyway.