Gartner et al. – gettin' there on EA
Nice to see that even the 'big fish' are finally 'gettin' there' on the real scope of enterprise-architecture…
A month ago we saw Open Group begin to re-frame their previous IT-centred approach to EA into a new style of 'enterprise transformation'. (The conference was still more IT than anything else, of course, but at least it's a solid move in the right direction.)
Then a couple of weeks back it was academic and EA-luminary Jeanne Ross making clear her opinion that enterprise-architecture does not belong in IT, under the CIO. To quote her interview in CIO.com, "companies need to acknowledge that 'architecture says everything about how the company is going to function, operate, and grow; the only person who can own that is the CEO'".
And now it's Gartner, at this year's Gartner Enterprise Architecture Summit in London earlier this week. I wasn't able to get there this time, as I'm currently ensconced in central-America working on a bunch of EA-related projects; but fortunately the indefatigable Gerold Kathan was there, sending out a whole stream of useful tweets:
gkathan: #entarch has no value until it is acted upon – deliverables should not be confused with value #gartnerEA
gkathan: customize and adapt your #entarch framework – industry frameworks should be used for inspiration, not perspiration #gartnerEA
gkathan: bringing something new like #entarch into top level management is hard: they will treat it as enemy in the beginning #gartnerEA
gkathan: "EDD" is impacting application lifecycle: "executive deficit disorder" – short term focus and irrational decisions #gartnerEA
But what really caught my eye was this little beauty:
gkathan: you have to reach out the 4 walls of your organization – extended enterprise includes e.g communities #gartnerEA
To which I can only sigh 'Hooray!'…
I've no idea which of the Gartner consultants it was who said it; and since Gartner itself seems to have a policy of not crediting 'outsiders', I've also no idea if that comment has any link to the various conversations I've had with Gartner folks over the years. But just for the record, here's my version of the full scope that an organisation's EA must address, all the way out beyond the market to communities and more: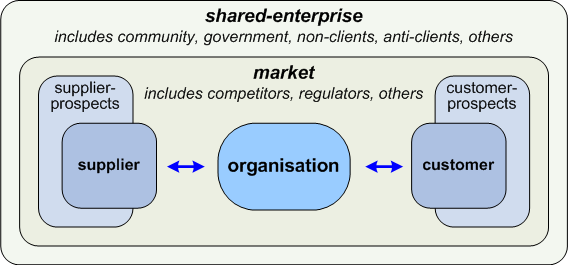 I've used a few variants of that in my EA presentations over the years – such as 'What is an enterprise?' and the very-popular 'The enterprise is a story' – but that's the core idea, anyway. Nice to see that Gartner too is at last officially acknowledging that kind of scope for EA.
On the other side, I ought to acknowledge another 'big fish' that sort-of got there quite a long time ago. I was trawling through my downloads on this little-used netbook, and came across a report from Infosys – 'Enterprise Architecture Expands Its Role In Strategic Business Transformation' [PDF] – from way back in 2008. It seems that even back then, the IT-centrism that still dominates 'the trade' was beginning to be challenged a lot more than most of the 'big fish' would be willing to admit:
Architecture steps out of the scope of IT and becomes part of planning and implementing strategy. In 22% of responding organizations, architectural processes are already being used for general business transformation.
And there's this in the report, too:
Transformation is implemented in multiple streams within multiple units and functions of the firm. Today's approach of architecture – looking at everything outside of IT as 'the business', and trying to access it through fairly generic, coarse-grained models – is bound to fail. A future enterprise-architecture will be 'the architecture of the enterprise'. It will need to address the whole organization and each of its functions through appropriate models which are meaningful to the specialists of each area, and help them drive transformation. This means that it will have to provide structured models to represent architectures for production, research, finance and HR – much as it has for IT.
There's a subtle trap in that that view is still centred around the organisation – 'inside-in' or 'inside-out', rather than the essential 'outside-in' view indicated in the Gartner quote above –  but at least it's a lot broader than the obsessive IT-centric view that predominated then, and is still all too common even now. Credit where credit's due – and worth reading the rest of the interestingly prescient report, too.
Gettin' there, anyway – slowly, perhaps a bit too slowly for comfort still, yet we are gettin' there. Feels good.