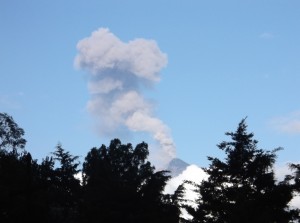 That's the view from my verandah here in Antigua Guatemala this morning: Volcan de Fuego has been kinda busy of late. (Click on the picture for a larger-size view.)
To give an idea of scale, that's on a 4x zoom on a wide-angle camera, so about the same as the perceived naked-eye view. It's perhaps 15-20km away – close enough to be impressive, far enough not to be a worry!
Thought you'd like something different from my usual rants about enterprise-architecture and the like.