The LEARN principle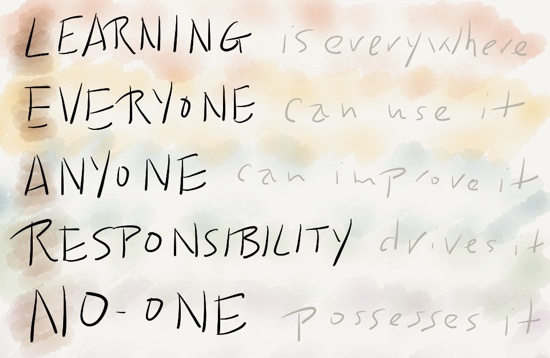 The LEARN principle extends the NEA principle of the internet to the context of global knowledge:
L

earning is everywhere.

E

veryone can use it.

A

nyone can improve it.

R

esponsibility drives it.

N

o-one possesses it.
The NEA acronym stands for the maxim "No-one owns it; Everyone can use it; Anyone can improve it". The maxim was first presented by Doc Searls and David Weinberger in their 2003 essay 'World of Ends. What the Internet Is and How to Stop Mistaking It for Something Else'. To quote Wikipedia, the purpose of NEA was to explain the nature of the Internet itself:
that it cannot be owned by any individual corporation because it is an agreement not a thing, that potentially everyone on earth can have access to it, and that anyone can potentially start a new service or even improve the nature of the agreement with a new good idea.
In essence, the NEA maxim applies to one specific aspect of learning and knowledge: one of the means of access and sharing. The LEARN acronym extends this more generally as follows:
— Learning, and opportunity for learning, is everywhere, and is shareable everywhere. Learning is embodied and enacted knowledge; and in turn, knowledge is personally-understood information. The internet provides a valuable source of information, and often of methods understand, embody and enact that information; yet it is merely one amongst an infinity of other potential sources for information and methods for learning. Although learning itself is always personal, there are many types of learning-opportunity that arise primarily or solely within a social context – hence the 'shareable' nature of learning.
— Everyone can use that learning and knowledge. Whether they may or will use that knowledge is another question – but everyone can use it, if they so desire, and develop the personal capability to do so.
— Anyone can improve that learning and knowledge. Because learning is personal, each person provides their own unique insight into the respective learning-context. And because learning is also shareable, each insight may become shareable too – extending the available scope of knowledge.
— Responsibility is what drives that learning and use of knowledge. The core drivers for the quest for new knowledge and new learning sit somewhere between curiosity and need. In practice this comes out as new responsibility – literally, a personal 'response-ability', an expanded ability to choose and enact one's responses to each different context. This also implies responsibility as stewardship for the learning and knowledge – ensuring that it is shared, applied and enacted appropriately.
— No-one can possess that learning or knowledge – particularly so in the sense of a purported 'right' to exclusive-possession of that knowledge. Learning always exists in a social context, hence it is inherently both personal and shareable. More to the point, since personal-knowledge is personal, the personal aspects of learning, knowledge and skill will literally die with that person – hence if they are not shared, the learnings will eventually cease to exist.
The last two points contrast two fundamentally different concepts of ownership: responsibility versus possession. For example, a direct corollary of the LEARN principle is that the concept of 'intellectual-property' as exclusive-possession is inherently self-defeating: by its nature, any attempt at exclusive-possession of information or knowledge must inevitably lead either to the loss of that knowledge over time, and/or to eventual 'leakage' and loss of control of exclusive-possession – possibly without awareness of the need for responsible use of that knowledge.
The so-called 'information-economy', which attempts to treat all 'proprietary' information in the exact same way as for scarce physical resources, is again inherently self-defeating. Amongst other implications of that fact, there is an urgent need for a fundamental rethink of the role of information and knowledge in the global economy, in line with the nature of the LEARN principle.