Glitch…
Seems a lot of people in the enterprise-architecture space wonder why I don't toe the 'party-line', and push for IT-centric automation-of-everything, like almost everyone else in 'the trade'. Well, here's a nice first-hand example as to why…
I've been doing some preparation and further development for my upcoming enterprise-architecture course, and hence recently bought a basic laminator to make laminated-cards of some of my models and materials. That worked out so well that I thought I'd do some experiments at something closer to a playing-card size, extending the ideas I'd developed a couple of years back for the 'This' game for service-modelling. I asked at my local office-supplies firm, but they didn't have the right size laminator-pouches: so I set out to order some from Amazon instead.
Glitch…
The usual Amazon package for the pack of laminator-pouches duly turned up a few days later, right on schedule. But when I opened up the wrapper, it immediately became clear that something was wrong: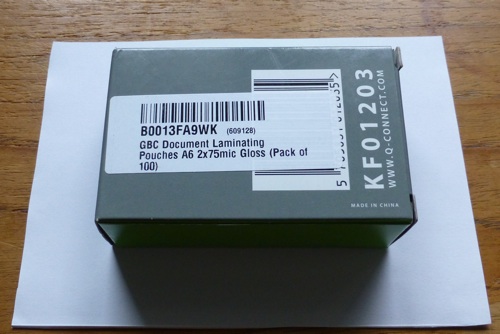 The size I'd ordered was nominal A6 – large enough to contain a sheet of paper of the size shown above, underneath the box, and with a small border to spare – and 75micron thickness, to work with my rather cheap-and-cheerful laminator. That's what the bar-coded sticker says, too: document-laminating materials, manufactured by GBC, "Pouches A6 2x75mic (Pack of 100)", exactly as per my order. But the box is way too small for that. What…???
So I turn the box over, and this what I see: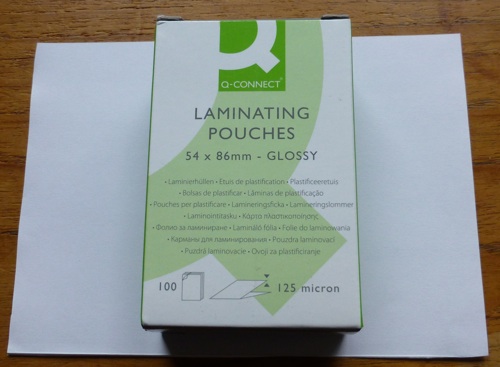 Manufactured by Q-Connect, not GBC; 54x86mm, not the 115x158mm or so that would be needed for A6-sized paper; and 125micron thickness, not 75micron. In other words, the wrong make, the wrong size – around a quarter of the size I'd ordered – and too thick to work in my laminator. The label is correct; the content is not. Oops…
Glitch…
Okay: go through the not-terribly-tedious Amazon process for doing a product-return, explaining that the reason I'm sending it back is that it's been mislabelled and hence is the wrong size and so on. I get an auto-generated email pointing to an auto-generated web-page for the bar-coded return-label and bar-coded return-advice. A short while later, I also get a separate email from Amazon customer-service, this time from – gosh! – a real person named Zulfi, very polite, very respectful, apologising for the screw-up, and telling me not to bother to send the pack back as it'd cost more than it would be worth. He acknowledges my warning that the pack was mis-labelled, and generates a new replacement-order for the correct-sized pack, to be sent as soon as possible, at Amazon's expense. In other words, it is good customer-service, and I'm grateful for that.
Shortly after that, I get the auto-generated email that confirms the free-replacement order; and later that day, I get another auto-generated email, confirming despatch. All well and good.
It duly arrives, a day later than promised, but that's not Amazon's fault. So I open up the package, and… – well, you can imagine my joy at discovering that I've been sent another instance of the exact same mis-labelled pack…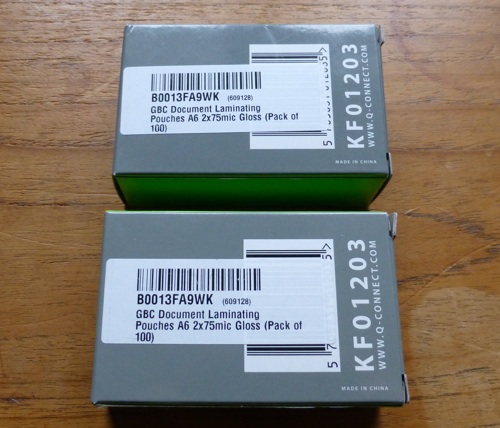 Back we go through the returns-process. Not surprised that all I get back is the same auto-generated 'print out this auto-generated return-label' email, and another seemingly auto-generated email notifying me of a refund (which I hadn't asked for – what I want is the right product!), and somewhat sharply telling me that the product is now out of stock. Which at least doesn't leave me out-of-pocket as such – which is something to be thankful for, I suppose – but still with nothing that I can use – which was the whole object of the exercise.
Glitch…
Yet it's all too obvious what's happened: they trusted the computer, not the in-person message warning them that there was a mismatch between the IT-world (the bar-code sticker) and the real-world (the actual content). They relied on the computer to be right – even though they'd been explicitly told that it wasn't. And no-one bothered to check.
Glitch…
Whacking the wrong label on a box spinning down a conveyor-belt: well, yeah, that's the kind of mistake that's real easy to do – especially if you're under pressure to keep 'productivity' as high as possible, and no-one has the time or attention-span to check that box and label actually do match up. And at the kind of wages that Amazon pays its warehouse-staff, and the pressures that it puts on them, I'm kinda surprised it doesn't happen a lot more often. But it's also the kind of mistake that, even in this small example, has cost Amazon a significant amount of money – several times more than any possible profit-margin on a straightforward sale, I'd say.
Glitch…
But that's exactly the kind of glitch that happens whenever we rely too much on IT-based automation, without any cross-checks or whole-of-system awareness. The IT-automation can make some parts of the process seem very efficient – yet not necessarily very effective overall. And it's whole-of-system effectiveness – not subsystem efficiency – that really determines whether something is truly fit-for-purpose, and, in turn, fit-for-profitable, too.
Which is precisely why I push for an enterprise-architecture that is a lot wider than IT alone: because doing whole-enterprise architecture, not merely an IT-centric architecture, saves money, and a lot more – especially in the longer run.
You Have Been Warned, etc…?