Toolsets for associative modelling
Back on the toolsets theme, what's the Why behind all this focus on a new type of toolset? Why won't the existing toolsets do the job?
In practice, the core concern is as per the previous post 'Toolsets, pinball and un-dotting the joins'. What we need to work with, and on, is the development process as summarised so well by the Squiggle: yet whilst the existing tools are each often great at tackling one part of the puzzle, they give us no means to connect across the whole of the puzzle, the whole length of the Squiggle. Instead, they fragment the Squiggle into little fiefdoms – a whiteboard-sketch here, a spreadsheet there, and now a little process-model too – 'dotting the joins' into a mess of disjointed domains, across which we somehow have to rebuild some kind of continuity, sense, structure, story: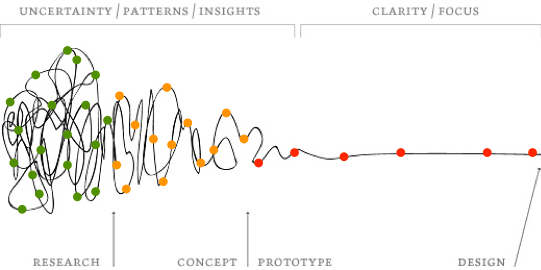 "So why is that a problem?", quite a few people ask, "Isn't that how we do our development-work already?" The short answer is yes, it is how we do it already – and it really doesn't work well at all. It's just that we're so inured to working in a really bad, clunky way that we probably don't even realise that there could be a better way to do it. Finding a way to do it in a better way is really what I've been on about in this series of posts on toolsets and metatools and the like.
Before we go on to a worked-example, let's just do a quick refresh on the practical concerns here.
First, in any context – any context, at any scope or scale – ultimately everything depends on everything else. Which means that a single model-type for a single domain (such as a data-schema or a BPMN process-model), or even a cluster of linked model-types for a cluster of related domains (such as UML or Archimate), is unlikely to be enough for what we actually need: in fact we're going to need model-types that could describe anything, in any way we need. Which, at first glance, probably doesn't seem to be possible – which is why we put up with the current mess…
Let's take this another step further. If everything depends on everything else, then everything is associated with everything else. Which means we'll need to keep track of all those associations – at least to a level of Just Enough Detail, anyway. Which, again, most of our existing tools won't allow us to do: they'll each keep track of a subset of those associations, according to their own formal rules, but won't allow us to connect beyond that point. Which, yet again, means that we're left to do the rest of the linking-up on our own, without any toolset help at all – or, all too often, quite a lot of toolset hindrance instead. Yeah, it's a mess…
The way those tools work is that they each declare a bunch of object-types that they 'own', with associations between them as a kind of afterthought. And yes, that does seem to be the 'logical' way to do it, if we centre everything around that model-type's view of the world – which, yes, is actually what we do want to do as we move into solution-architectures and the like in the later stages of the Squiggle. Yet that 'if' is really important – so important, and yet so often glossed-over, that most people don't seem to realise that centring around a single model-type is exactly the wrong way to do it for the earlier parts of the Squiggle. If we think a bit more carefully about what that phrase "everything depends on everything else" really tells us, it's that there is no 'The Centre' to the architecture: instead, everything and everywhere is 'The Centre', all at the same time. Which means that we need a fundamentally different approach for our toolsets, if they're going help us link everything together across the whole of the Squiggle.
To make sense of this, we need to look more closely at how we work, at how we think as we work. What I've been describing in these posts – and as I'll again summarise somewhat later in this post – is that to get this to work properly, we need to turn the model-thinking almost completely the other way round to how it's usually done at present. But to illustrate why that's so, let's play 'pinball-wizard' for a while, and look at the real enterprise-architecture of a small business near where I live – a café that I often frequent in one of the more upmarket streets in the old town. It's recently changed ownership and undergone a makeover, and it'd be kinda interesting to look at the choices that the new owners have made in rethinking – and redoing – the architecture of this enterprise.
It's true that in mainstream 'enterprise'-architecture we'd probably look only at the information-systems for the business, whilst the process-modellers would look at only at their slice of the story, the compliance-guys at their own slice, and so on. But that's yet another example of 'dotting the joins', isn't it? Instead, for business-architecture, and even more so for a true 'architecture of the enterprise', we'd need to start much further back along the Squiggle – start right from scratch, in fact, and build outward from there.
Yet where do we start? Well, a nice corollary of "everything depends on everything else" is that we can start anywhere – anywhere that works, that gives us a place to start. So, sitting in the café, let's start right where we are – look straight out in front of us, to the opposite wall: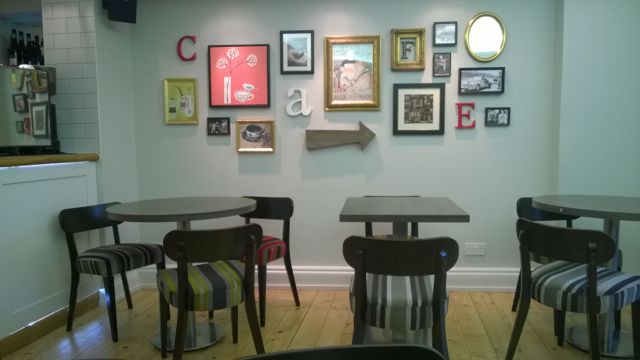 Look at the wall. Look at the mood that that wall suggests; the clientele; the usage. Under the previous owner, the place was also a café/bar, but with a much stronger emphasis on 'bar' rather than 'café'. Here, the sealed wooden floor, the light-grey tones, the lighter ceiling, and distribution of light in general, all help to shift the emphasis more to day-time work-oriented café rather than evening-oriented social bar. It's an intended-usage that's also emphasised by the pair of double power-sockets, for computer-users, on that wall alone – one socket clearly visible to the right, the other almost hidden by the leftmost chair.
(Notice how the associations jump from one theme to another to another – mood to clientele to usage to power-supply to lighting to colour to whatever. That's exactly what happens – what needs to happen – throughout the earlier stages of the Squiggle. The one thing we don't want to do at this stage is to put up arbitrary boundaries and partitions between architectural domains – otherwise the ability to associate 'everything with everything else' will break down.)
How else do we set the mood, the intent? Music is one part of it – note the loudspeaker mounted at upper-left. Furniture is another: different table-types for different groupings of clientele – solo, twos, threes, fours, more – yet continuity provided by the same type of chairs throughout. And there's the wall-decoration, the cluster of 'found-objects literally spelling-out the intended usage as 'café'. Turns out that that decoration wasn't assembled by the owners themselves, but bought direct from a company that specialises in providing prepackaged sets of exactly this type of material in accordance with a specified mood.
(Again notice the associative-modelling process here, and also the jumps back and forth from big-picture intent to the detailed practicalities of real-world implementation. Again, anything can usefully connect with anything else: and in the earlier stages of the Squiggle, we don't – in fact often can't – know beforehand what those useful-associations might be.)
Another place we could start would be as with Business Model Canvas and the like, though again also bouncing back-and-forth between big-picture and finer-detail. For example, we could start with the 'front-end' of the business-model: if we're offering a service of some kind, how would people connect with that service? What do our potential customers want to do? For a café, some of the intentions that come to mind would be:
take-out food and drink
quick sit-down eat and drink
solo slow-time – coffee-break, lunch-break, sit and think
business semi-formal – 'doing deals'
students talking loudly, tossing around ideas
young-mums chatting together
lounge around with friends
sit and relax with a cigarette
If the café wants to support all of those client-stories (which they do, in fact – pretty much all apart from the 'noisy students' client-group, who are well served already by the franchise fast-food places just down the road), then that indicates a definite need for zoning – splitting the space into distinct zones.
(In Business Model Canvas terms, such zones will, in effect, also form distinct channels via which the respective value-proposition for each customer-group is served.)
And that kind of zoning is exactly what we can see here in this café: each zone demarcated by distinct boundaries of doorways, constrictions, changes of level – and different decor and lighting, too. From the 'quiet-zone' area where I am right now in the café, there's the more 'group-sitting-together' space further towards the back of the café – often popular with the young-mum professionals talking babies and business, but here with just one woman working on her own – and then the lounge-area right at the back, with sofas and side-tables: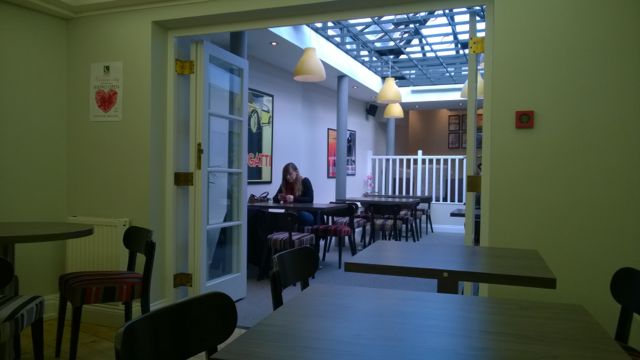 Looking towards the front of the café, there's the bar-area for take-out orders; the quick-eat area with its small high-tables and high-chairs; the two bays for sitting solo in the window; and then the smokers' steel tables out in the street: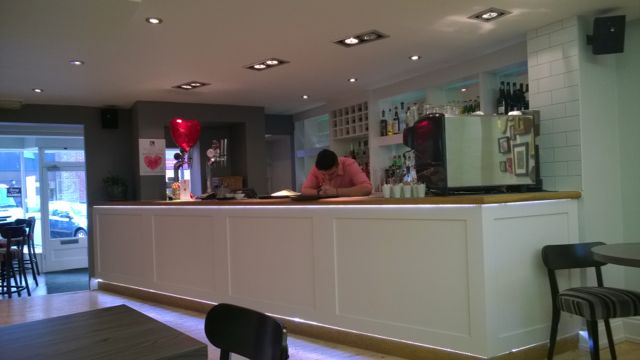 Yet a business-model is not just the customer-facing 'front-end', but also the 'back-end' that does the actual work – including much that's intentionally hidden away from customer-view.
A value-proposition is a promise to deliver value – so we need to be able to deliver on that promise. Hence, for example, the all-important coffee-machine at this end of the bar; all the bottles behind the bar itself; the sandwiches and suchlike on display in the small serving-area at the front; and, for hot food, the kitchen-area upstairs. For the latter, a key piece of equipment is the 'dumb-waiter' food lift that connects between the kitchen and the bar – otherwise a real risk of spilled food and sprained ankles from traipsing up and down those stairs.
(Notice how the vertical separation of kitchen and serving-area makes that literal connection between them necessary – an association of ideas that arises because the direct association in another sense does not exist.)
To close the business-model loop, there's the computer and cash-register – just about visible on the bar here, to the right of the balloon that's advertising the current Valentines-Day special.
(We might note that that computer and cash-register would often be the only point within the whole café for which the classic concerns of mainstream 'enterprise'-architecture will come into this overall picture – which itself should give some indication of just how limited and parochial that so-called 'enterprise'-architecture really is…)
To make more sense of the business-model, we'd need also to look at other themes such as the workflow, the information-flow, the materials-flow – like the two delivery-guys coming in through the door right, one with a trolley-load of bottles that need to be stored somewhere, the other with the supplier's bill that needs to be accounted for, in every sense of that term. We'd need to look at the customer-journey, the customer-story, the customer-experience: as Chris Potts put it, "customers do not appear in our processes, we appear in their experiences". We'd need to explore how the café itself connects with the broader story of the street, of the town, of the region; how it connects with the overall shared-enterprise of 'eat and drink away from home'. We'd need to address the often-thorny issues of licensing-laws, city-ordinances, regulations and compliance on health-and-safety, food-handling and all the rest. And so on and so on, more and more and more – all of which matters to the working of the whole, whether we like it or not.
And that's the whole point here: at architectural level, everything really does depend on everything else, and we really do need always to see it as whole-as-whole, even – or perhaps especially – whenever we need to do a deep-dive down into the fine-detail.
Which means that the toolsets we use must be able to maintain connection across all of that space. Or, to put it the other way round, any tool or toolset that does not support continuity across the whole space will inherently cause architectural-fragmentation and increase overall architectural-risk: in other words, Not A Good Idea…
At present, just about every toolset assumes that it alone is or describes The Centre of the architecture. Yet there is no 'The Centre' to an architecture: everywhere and nowhere is 'The Centre', all at the same time.
Everything in an architecture depends on everything else in that architecture.
Everything associates with everything else in some way.
In a sense, we don't need new tools as such: the tools we have are variously good, even excellent, at describing the 'things' within each architectural domain – the 'thingness' of those things.
What they're not good at, though, is in describing and connecting between domains – the 'betweenness' of the associations between things, domains, levels, layers, implementations, whatever.
That's why we need tools and toolsets that can support associative-modelling across the whole-as-whole of an architecture – that allow us to start anywhere, and model anything, anywhere, up, down, sideways, round, in any direction that we need.
So we don't need 'new tools' as such: instead, we need the tools to connect with each other, 'un-dotting the joins' created by all those existing single-focus tools.
That's what all this discussion of 'new toolsets for enterprise-architecture' is really about.