Simplifying SCORE, again
How can we simplify the SCORE framework – Strengths, Challenges, Options, Responses, Effectiveness – to make it more accessible as a practical, more strategy-oriented replacement for SWOT?
As summarised in the post 'More on simplifying SCORE', the way to use SCORE is sort-of similar to SWOT: the main difference is that SCORE uses an explicit iterative process in which we bounce around between the 'domains' of the framework, including an emphasis on effectiveness that's missing from SWOT. The concern here was around simplifying the 'standard' layout: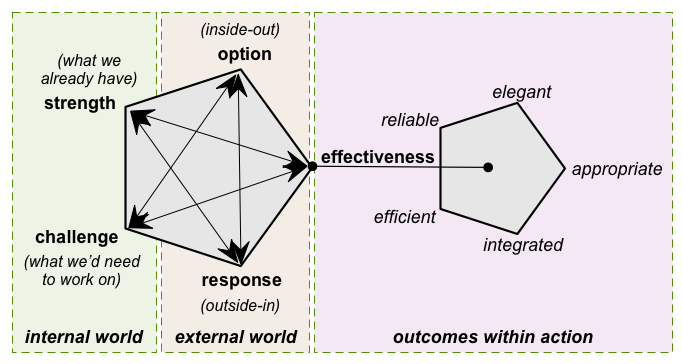 This layout works well enough as a visual-mnemonic for how the process works, but it's not so practical on a whiteboard or notepad, as a background for sticky-notes and the like. One suggestion to make it easier to use for that kind of purpose would be to move back towards a more SWOT-like layout, as described in the post 'Simplifying SCORE':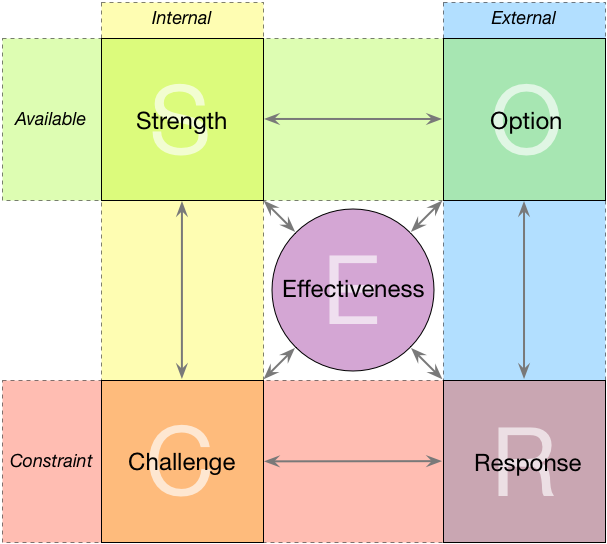 This retains the arrows from the 'standard' layout, to remind us that the whole thing is iterative, and that everything we place on the frame interacts with and is interdependent on everything else. The catch, of course, is that it's still a bit wasteful of space…
The obvious solution, then, is to go one step further back towards a SWOT-like layout, but with SCORE's set of five domains rather than SWOT's four: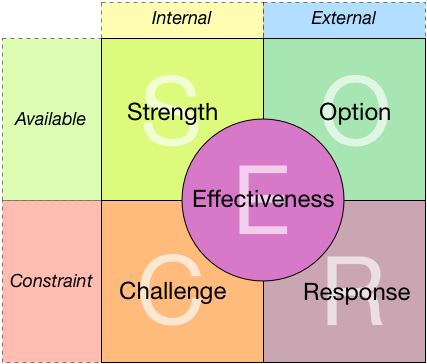 The trade-off with this layout is that it loses the arrows – which means we'd need to pay more conscious attention to the way in which the domains interrelate with each other, and not fall back into the SWOT-style tendency to be just making lists, without exploring the overall strategic impact of each item or change.
Is it worth that trade-off – losing the arrows in exchange for a more compact layout? Or is it one simplification too far?
Which of these layouts for SCORE would you prefer?
Comments, perhaps, anyone? – and many thanks, anyway.