Enterprise-architecture – it's about (much) more than just IT
Enterprise-architecture – what is it?
There are so many arguments about this – especially on LinkedIn – that it's easiest to sidestep the question, and say that enterprise-architecture is the architecture of the enterprise. Kinda straightforward, when we look at it like that.
But in which case, what is 'the enterprise' to which an enterprise-architecture would apply? If we look at most so-called 'enterprise'-architecture frameworks, this is how they'd describe it: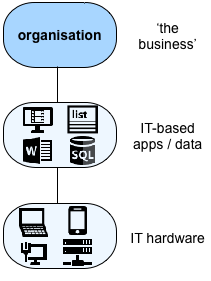 Which no doubt makes sense if the only thing we ever work with is some aspect of IT. And yes, to such of us who work that way, it can well seem that IT is far more than just one more type of enabler – it's the centre of everything!
The assumption is seems to be that "Ubiquitous IT having captured domains in entirety" – to quote Vance K. Saxbe on LinkedIn – and hence, he says, "it is wise to define EA as Strategy to IT".
Short answer to that assertion? No.
Just no.
Would we describe the enterprise of a restaurant solely in terms of IT?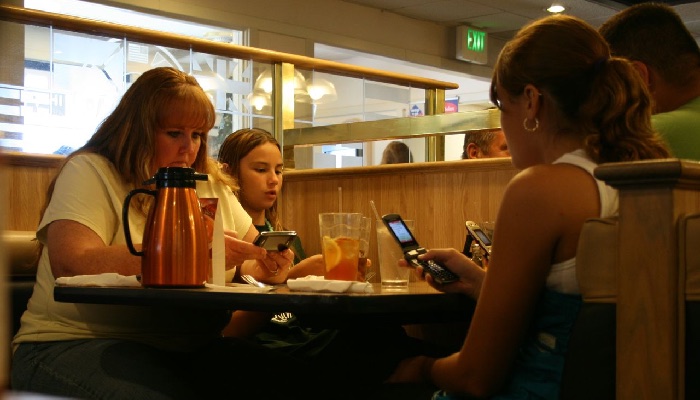 No.
Just no.
To be blunt, it is really, really unwise to define enterprise-architecture in that way.
Still far too common, sadly, but still deeply unwise.
An over-focus on IT is perhaps the most common error in enterprise-architecture – and until architects learn how to keep IT in proper context and perspective in their understanding of enterprise, it's perhaps also one of the most dangerous and destructive errors in EA, too.
Making that paradigm-shift still seems to be absurdly difficult for many EA-folks – I don't know why. But until they/we do make that shift, they/we remain, at best, mere IT-architects – not enterprise-architects, literal 'architects of the enterprise'. And that distinction is utterly crucial for the development of this discipline.
Yes, in most organisations now, IT is deeply interwoven throughout the enterprise – but so is everything else.  The reality is that the organisation's business-model and business-operations consist of a bunch of services implemented by any appropriate mix of people, machines and IT, and supported by any appropriate mix of facilities, assets, resources and more: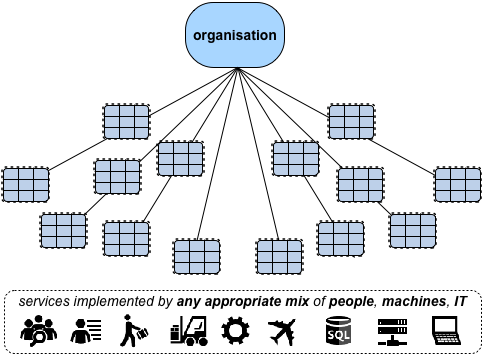 It's also worth remembering that, literally, 'enterprise' is 'a bold endeavour'. That's a primarily human characteristic: I've yet to see any IT-system that is either bold, or endeavouring… And once we look at the enterprise, not just as the organisation itself, but as a human construct, then a much, much broader and, yes, more human context emerges:
The extent of IT-centrism in most so-called 'enterprise'-architecture frameworks at present is frankly absurd. In TOGAF, for example, the description of their supposed 'business-architecture' is, in essence little more than 'anything not-IT that might affect IT'. Which is kinda parochial, if not just plain stupid, once we realise that the real enterprise looks something more like that graphic above.
Yes, sure, IT is relevant there, in fact often quite important. No doubt about that.
But IT as the sole centre of everything, around which the entire enterprise revolves? Not so much…
If we look at end-to-end business-processes, they'll be made up of any appropriate mix of people, machines and IT: and in many cases the IT might well play only a small part – if any at all. So should we always centre every exploration around IT? What about everything else? Isn't that sometimes (a lot) more central than the IT?
If we compare to organisational spend, IT typically accounts for no more than 5% of the total budget. But what about everything else, in the architecture of the enterprise? Isn't that too also important to the overall architecture?
As supposed 'enterprise'-architects, just how much attention do we each pay to that 'everything else', by comparison with how much attention we pay to the IT?
Do we even know what that 'everything else' is?
Do we know and understand how all of the enterprise fits together, works together?
Yes, IT is an often-useful enabler in the enterprise: but do also we recognise how, if its limitations are not understood, IT can easily become a disabler for the enterprise? Do we understand enough about how damage an over-focus on IT can cause?
"I wasn't smart enough about that [the strict focus on efficiency and technology and the disregard of people in the organisation that is subjected to a reengineering initiative]. I was reflecting my engineering background and was insufficient[ly] appreciative of the human dimension. I've learned that's critical." — Michael Hammer
Let's be blunt about this: Until we do understand this, and keep a proper balance between the IT and the 'everything else' in our architectures, we cannot and should not describe ourselves as enterprise-architects.
And, as Mark Paauwe warns:
An architect is a total concept designer and supervisor of the realization of structures with that total concept. And enterprise architects are only enterprise architects when they design total enterprise concepts (or parts of it) and supervise the realization of enterprise structures (or parts of it) using that total concept (or parts of it).
The crucial addendum is that the '(or parts of it)' must always be in context of the whole. The problem with IT-centrism is that it purports that its (quite small) part is the whole, and that nothing else matters, or even exists. Architecturally, that is definitely Not A Good Idea…
In practice, then, we need an enterprise-architecture that is careful to keep technology in its place, as an enabler rather than an arbitrarily-overemphasised deus-ex-machina. To avoid making the kind of complete shambles that is depressingly common when IT-obsessives get involved in enterprise-architecture, we need to break free of the myopic delusions of enterprise-seen-as-IT, and instead, in enterprise-architecture, keep the focus first and foremost on the needs of the enterprise-as-enterprise.
We forget that focus at our peril.