SCAN – work in progress
Yes, I know I've gone a bit quiet in the past couple weeks, and no, I haven't abandoned those ideas about SCAN sensemaking and real-time decision-making and the like.
Reality is that those ideas are very much in the 'work in progress' stage at the moment, and as yet still quite some way from a form that might make much sense to anyone else. To illustrate, for the past couple of weeks I've spent rather too many hours staring at and tweaking of a set of whiteboards that look like this: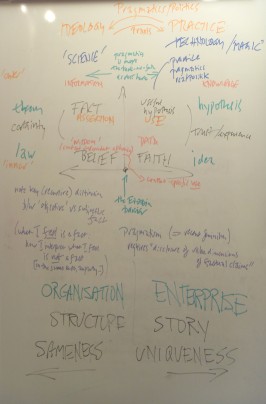 In other words, it's coming together, sort-of, but it'll take a bit more time yet to clean it up into usable form. Watch This Space, perhaps?