Requisite-fuzziness
How should we respond to inherent-uncertainty in qualitative-requirements, for enterprise-architecture and the like? Yes, we can reduce every qualitative-requirement to some sort of metric, but is that always a wise thing to do? And if not, how can we tell whether it is or isn't an appropriate answer? – and what to do if it isn't?
This is a follow-on to the previous post, about 'Metrics for qualitative requirements', and in response to some of the issues that came up in the comments there.
What I'm looking for, I guess, is a different kind of metric that (in homage to Ashby's 'Requisite Variety' and Ivo Velitchkov's concept of 'Requisite Inefficiency') I'd probably describe as requisite-fuzziness.
It's sort-of related to probability, or uncertainty, but it's not quite the same: more an indicator of how much we need to take that uncertainty into account in system-designs and system-governance. If there's low requisite-fuzziness in the context, we can use simple metrics and true/false rules to guide decision-making for that context; but if there's high requisite-fuzziness, any metrics must be interpreted solely as guidance, not as mandatory 'rules'.
(Note also that 'fuzziness' and requisite-fuzziness is dependent in part on the 'variety-weather' or variety of the variety itself in each context – see the post 'Requisite-variety and stormy weather'.)
Requisite-fuzziness thus describes and determines the amount of leeway and allowance-for-uncertainty that must be built into the system – and hence also the extent of requirements for 'manual override' for automated systems that are only able to follow 'the rules'. One of the huge challenges for real-world system-design is that computer-based IT and other automation tends to have a very low natural-tolerance for 'fuzziness' – far lower than the requisite-fuzziness in that context: hence whenever we get IT-centrism, or any other variant of people becoming over-enamoured with 'deus-ex-machina' technology-based 'solutions', we're likely to get serious failures around inability to cope with requisite-fuzziness.
From an enterprise-architecture perspective it's probably easiest to describe this in terms of the SCAN framework. But first, let's illustrate this with a more concrete and prosaic example of a quantitative-metric applied 'as' a qualitative-requirement: speed-limits.
The purpose of speed-limits is to provide a meaningful and useful guideline to support safe driving and safe road-use. All fair enough. And the provision of an identifiable measure of 'probable safe speed' does help in this – but not if the metric itself is used as a substitute for personal-judgement and personal-responsibility for safe driving. Which happens a lot…
To illustrate the point, here's a real example where predefined speed-limits make almost no sense: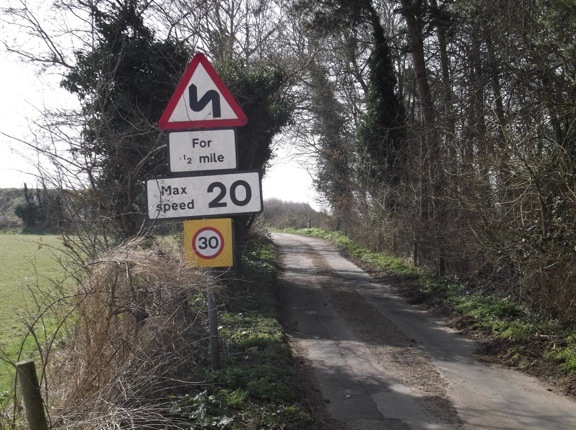 It's on a twisting narrow country lane, weaving its way around steep banks and deep gravel-pits, often very slippery in the wet, and almost no place to pass: definitely not a place to drive fast. And frankly, given that that road is also popular with dog-walkers and weekend-cyclists, it's unsafe for a car at almost anything above a slow walking-pace…
The '30mph' limit-sign is what's known as a 'repeater', indicating the continuation of a speed-limit – in this case because it's quite a way out of the village, where the usual relaxation of the speed-limit would apply. Yet many people would take the 30-limit there as a permitted or even recommended speed – which, legally, they're permitted to do, despite the '20mph' advisory-sign above. In other words, the metric is less of a help than a hindrance in encouraging safe-driving in often highly-variable conditions: it doesn't adequately describe or support the requisite fuzziness of measure for the variability of the context.
The reality is that whilst vehicle-speed can be measured quite easily, often to a high degree of precision, 'safe speed' is highly-variable and highly-contextual. For example:
road-conditions – dry, wet, icy, gravel-strewn etc
condition of the vehicle – brakes, tyres, quality or reliability of controls etc
state of the driver – mental state, emotional state, medical conditions, affected by digestion-in-progress etc
awareness of the driver – hazard-awareness, familiarity with the vehicle (e.g. rental-car), distraction (phone, radio, sat-nav, children fighting in the back…)
competence and experience of the driver – years of driving, familiarity with the locale etc
interactions with other drivers – too slow, too fast, tailgating, lane-jumping, horns blaring, emergency-vehicles pushing through
condition of other drivers' vehicles – brakes, tyres, acceleration etc
interactions with other road-users – cyclists, pedestrians, motorcyclists, schoolchildren, crowds
Yet when the speed-limit is interpreted as an absolute-proxy for 'safe-speed', we get all manner of behaviours that are definitely not safe at all:
drivers claiming that they have a 'right' to travel at the speed-limit, regardless of the conditions
'bunching' on motorways/freeways and highways because everyone is driving at the same 'maximum' speed, with no legally-permitted option for a quick burst of speed to overtake
drivers attempting to drive at the (dry-conditions) speed-limit on wet or icy roads
drivers tailgating and pushing at others who are driving below the speed-limit because the conditions are not safe for the specified-limit speed
drivers going past schools or other 'child-at-risk' areas at full limit speed
In SCAN terms, what we have with a speed-limit is a Simple rule being used as a proxy for the whole-context, overriding the necessary roles of algorithms (for Complicated by calculable contexts), patterns (for more-Ambiguous contexts) and principles (for Not-known contexts):
Which means, in practice, that the Simple rule is then taken as the primary test for safe versus not-safe driving. Which lays the whole space wide open to all manner of absurdities and abuses – such as the spurious accuracy of tools such as speed-cameras, which give very high-precision in a context which is very blurry indeed. Which, in turn, incites many definitely-not-safe tendencies amongst drivers, including:
focussing on the speedometer more than on the road
searching for speed-cameras rather than road-hazards
attempting to 'game' the system by attempting to 'get away with' higher speeds than the road-conditions would actually permit, solely because a speed-camera is not present
again, asserting a 'right' to drive at the maximum listed speed-limit, regardless of road-conditions
And then, from the other side, we have the classic 'rule-follower' and 'target-orientation' dysfunctions:
speed-cameras issuing non-repudiatable speed-tickets, regardless of context, to emergency-vehicles or other drivers who may need to travel above the speed-limit (e.g. taking someone to Emergency unit or Obstetric-Delivery unit at hospital)
speed-cameras set at a higher precision than speedometers actually tolerate (e.g. in Victoria, Australia, speed-cameras are set to trigger nominal at <3kmh above speed-limit, whereas most speedometers are still designed only to 10% accuracy (6kmh in most urban areas) and recorded-speed displayed on speedometer versus actual speed-on-road varies with temperature, tyre-pressure etc; also speed-camera precision is affected by placement, vehicle-shape etc)
zero-tolerance for road-topology issues such as natural speed-up on descent of a slope
police-officers who are low on 'target quota' for charges/arrests may search for excuses to use speed-limit issues as an 'easy' mark or metric for their own 'performance'-activity
Throughout all of this, the problem is that there is a fundamental disconnect between the 'how' (the speed-limit) and the 'why' (safe-driving). The pseudo-precise rule (the numeric metric for the speed-limit, in this case) is used as a proxy for what is actually needed (in this case, safe road-usage according to variable context). The rule's preset metric may well be too low, or, in many circumstances, too high, for the conditions that apply at that moment.
The rule has insufficient fuzziness for the actual needs of the context. Or, to put it the other way round, the requisite-fuzziness of the context is greater than the fuzziness or uncertainty allowed-for by the rule. In exactly the same sense that a control-system that manages less variety than the requisite-variety of the context cannot actually 'control' the behaviour within the context, a rule (or algorithm, or pattern, or principle) that allows for less variance than the requisite-fuzziness of the context has a high risk of being more of a hindrance than a help in many of the circumstances that can occur within that context.
Remember, though, that speed-limits and suchlike are just one example of spurious-precision and inadequate-fuzziness. It's not just that there's 'many examples', either: they're everywhere – especially within business-organisations. (Probably the classic business-example? – "Our strategy is last year plus 10%"…)
So for enterprise-architects and others, whenever you see a rule that's based on a preset metric, always ask:
where did this metric come from?
does it actually indicate what it claims to do – i.e. a true trigger-condition?
does it encourage awareness of and alignment with the real aim behind the rule and metric – or distract from that aim?
does it support awareness of the real requisite-fuzziness in that type of context – or distract from that awareness?
Makes sense, I hope? Over to you for comment, anyway.