Positioning Enterprise Canvas in enterprise-architecture work
As I mentioned again quite recently, I'm always pleased to see how others use my work, because there are usually themes in there that I hadn't seen before. So the other day, whilst listening in on the Open Group webinar by Hugh Evans of Enterprise Architects, on 'Sketching a roadmap for enterprise-architecture in the age of digital disruption', I was quite excited to see what looked like a really useful positioning for Enterprise Canvas: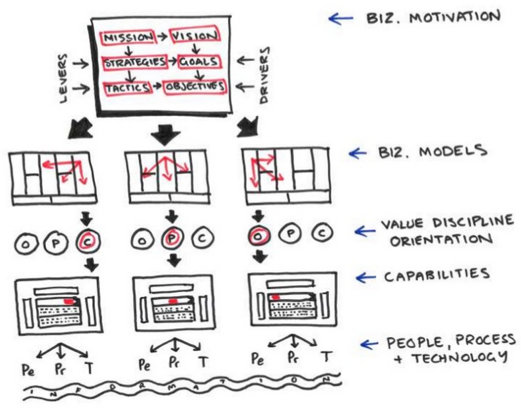 This is from slides 25 and 26 on the slidedeck for the webinar; much the same images occur again on slides 40, 67 and 69-71. (The 'O' 'P' 'C' next to 'Value Orientation' stand for 'Operational-excellence', 'Product-leadership' and 'Customer-intimacy' respectively, by the way.) Here's another copy with a green highlight around the bit that interested me: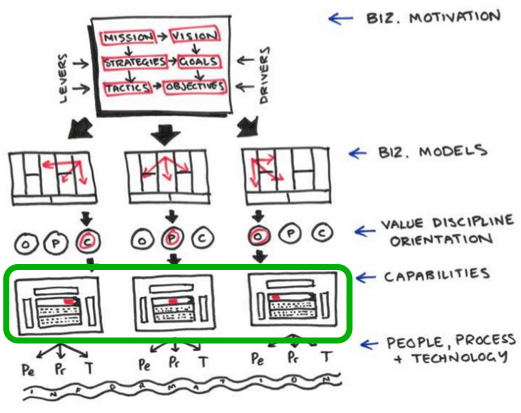 And, for comparison, here's a view of the core Enterprise Canvas, minus its usual 'investor/beneficiary' section below the main service-entity: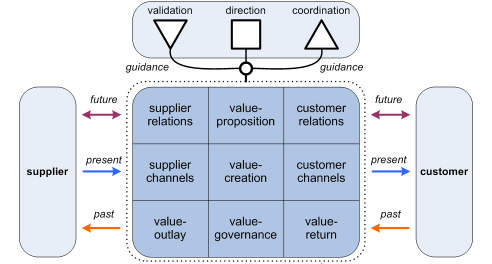 In other words, looks pretty much the same as those entities highlighted in the sketch – a bit more detail in the Enterprise Canvas diagram, that's all.
Now it's important to note that they may not be the same, of course. It's true that I've talked with Hugh and Craig and various others of the Enterprise Architects crew quite a few times over the years; but it's entirely possible that what's depicted in the slidedeck is something quite different from Enterprise Canvas, that they've developed entirely on their own, and for a different purpose. I don't know, and it really doesn't matter. What does matter is that that useful parallel is there, and that their diagram therefore suggests a really good way to describe one type of role of Enterprise Canvas in development and implementation of an enterprise-architecture.
[In principle, we could actually use the overall Enterprise Canvas framework for every role in that diagram, from top to bottom: the core Canvas service-entity and its various adaptations are capable of covering the whole space, from the section at the top marked 'Biz Motivation', through 'Biz Models', 'Value Discipline Orientation', and 'Capabilities', right down to 'People, Process + Technology' and the underlying 'Information' layer, all of it based on a single, consistent, recursive 'everything-as-a-service' motif. To keep things simple, though, I'll assume that we would only use Enterprise Canvas for the 'Capabilities' segment of that diagram, as below.]
So let's split up the whole modelling-implementation in the following way:
Biz. Motivation: use Nick Malik's  Enterprise Business Motivation Model (EBMM)
Biz. Models: use Alex Osterwalder's Business Model Canvas (BMC)
Value Discipline Orientation: use the three orientations ('Operational-excellence', 'Product-leadership' and 'Customer-intimacy') to select an emphasis and orientation in a respective service to be modelled in Enterprise Canvas – typically:

'Operational-excellence': emphasis on combination of supplier-facing (left-side) and self (centre) in Enterprise Canvas
'Product-leadership': emphasis on self (centre) in Enterprise Canvas
'Customer-intimacy': emphasis on customer-facing ('right-side) in Enterprise Canvas

Capabilities: model as services in Enterprise Canvas, perhaps using a translation via Archimate, such as described in the post 'From business-model to enterprise-architecture', or more briefly in the post 'Business Model Canvas to Archimate (the short version)'
That's it: nice and simple. 🙂
Comments, anyone?