At Enterprise Architektura conference, Prague
I should have mentioned this one earlier… – things have been kinda busy lately! 😮
An excellent time earlier this month, at the inaugural Enterprise Architektura conference in Prague. Very impressive for a first-time conference in a relatively small country: more than 250 attendees, more than a dozen presentations and workshops, and good support from industry too – a huge testament to the commitment, drive and organisational skill of Milan Rubeš and his colleagues.
Many thanks to everyone there, and especially so to those with whom I had some truly great conversations. In particular, I was delighted to see that the overall view of enterprise-architecture was that it should not be centred around IT, but is literally the architecture of the enterprise as a whole. That message is getting through at last, to the broader population of enterprise-architects. (Okay, I know that this view is more common anyway in the 'small-countries' than in 'large-countries' – but even so, good to see.)
Milan kindly organised a photographer, so I've ended up with some very nice photographs of my keynote-session there – such as this one: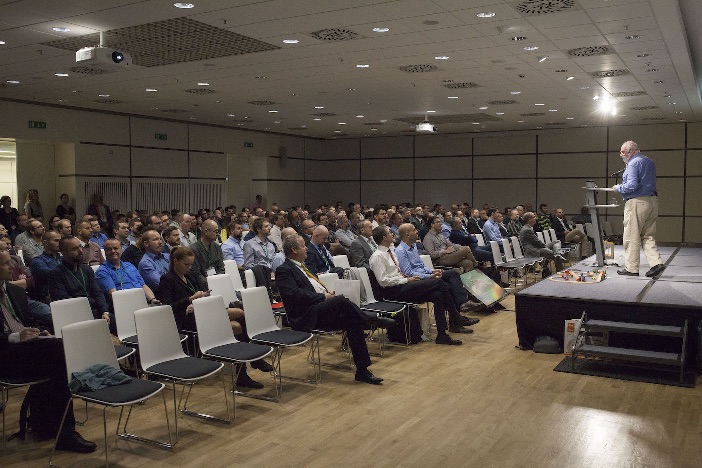 My session itself had the following blurb:
A unique reflection on different views of architecture. How to eliminate fears of change, work with cultural stereotypes, and how architecture is related to Czech black-humour and why we have a tendency, as architects, to cut ourselves down. Also, how the architect should prepare the 'battle-plan' and how to succeed in the fight itself.
And here's the link to the slidedeck, now over on Slideshare:
It's based in part on the same themes as some other recent slidedecks – in particular, the value of 'raiding the toolbox' as a way to get non-architects more engaged in the architecture. But as you'll see, there's a definite Czech influence here!
Along with that keynote, I also did a brief workshop on SCAN, this time with a lot of new content, coming out of the work being funded by our patrons over on Patreon. There'll be more news about that coming soon, over the next few weeks.
Over to you – Share And Enjoy, perhaps?