Rules, principles, belief and faith
Following on from the previous post 'Rules, principles and the Inverse-Einstein Test', there's an important corollary about real-time sensemaking and and decision-making – it was in my notes for the post, but I forgot to include it, so I'll do it as a separate post here.
This connects back to the previous work on SCAN, and, in particular, relates to how sensemaking and decision-making work at the point of action:

This probably also relates to the 'considered' sensemaking and (would-be) decision-making that come into play when there is more separation-in-time from the moment of action itself: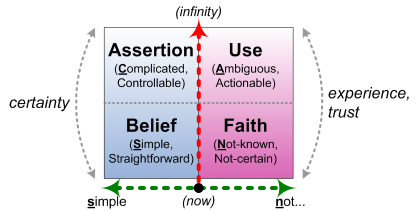 (In that diagram above, 'Assertion' is closely related to analysis, and 'Use' to experiment.)
In both those diagrams, the green horizontal-axis represents the modality of the context – the extent to which the context ranges from certain-repeatability and predictability ('simple') to an increasingly-ambiguous and uncertain realm of possibility and necessity ('not-simple'). The black dot where the red vertical distance-in-time axis crosses the modality-axis is, in effect, the boundary-condition of the Inverse-Einstein test: to the left ('simple', a context of order), doing the same thing will always lead to the same result; to the right ('not-simple', a context of unorder), doing the same thing may lead to different results, with the probability of different-results increasing as we go further to the right.
[Or, to put it another way, over on the left, the variety-weather is calm enough that 'control' will seem to be achievable; over to the right, the variety in the context is greater than that of the would-be control-system, and hence certainty of control is not possible. Note that the variety of variety itself means that the notion of 'control' is rarely more than a questionably-convenient fiction whose nominal validity will itself vary over time. In reality, in almost all real-world systems, indefinitely-guaranteed certainty of control is not achievable even in theory, let alone in practice. But I digress… again… 🙂 ]
Another way to view this in terms of perspectives, as in my post 'Inside-in, inside-out, outside-in, outside-out':
belief and assertion ('analysis') tend to take an inside-out view: they apply rules or algorithms – predefined, closed-logic, and often self-centric sets of assumptions – onto the overall context, and in effect attempt to force the context to fit the assumptions
faith and use ('experiment') tend to take an outside-in view: they use preselected values, principles, patterns and guidelines as open-logic, externally-aware filters onto the overall context, and in effect attempt to adapt to the context, often in real-time
heuristics – semi-open filters such as 'best-practice' or past-experience – tend to straddle the boundaries between these two modes
The core advantage of belief is that it enables us to proceed, often at very high speed, with absolute certainty – if the belief-logic is valid for the context. The catch with belief is that it is very prone to circular-reasoning, in part because the 'inside-out' view precludes visibility of any information (or anything, really) that does not fit its predefined assumptions. (Hence, for example, the frustratingly-persistent predominance of IT-centrism in much of so-called 'enterprise'-architecture…) Also, almost by definition, belief-based decision-making has no means within itself to verify the validity of its own logic or assumptions – which is why it is so prone to circular-reasoning.
The core advantage of faith is that it can cope with almost any potential variation in the context – dependent on skill-level. The catch with faith is that it can easily become 'blind faith', based on principles that may actually have little or no connection with concrete reality. Also, almost by definition, it can be all but impossible to demonstrate a repeatable chain-of-reasoning in faith-type sensemaking and decision-making: this often renders reliability of action within the system highly dependent on individual skill.
Given those respective advantages and disadvantages, it should be clear that neither belief-based decision-making nor faith-based decision-making would be sufficient on its own for acting on any real-world system: we need a balance between belief and faith to guide real-time decision-making.