Co-inspiring in the Chaotic domain
How can we collaborate in chaos? Or, to put it the other way round, how can we use apparent chaos to drive decisions that guide towards some desired yet emergent aim?
As you'll see, this post itself is a kind of live-document of exactly that process in real-world action…
There are a bunch of themes going on for me right now. I have (as usual) overshot the deadline for a conference-presentation, so I somehow have to produce the respective slidedeck this weekend: and I'm stuck. I read back my conference-proposal, but I have no memory of what I'd meant to say when I wrote it some months ago: all I remember is that it's something about the dynamics of enterprise-architecture – about design for uniqueness and 'chaos' in a business-context. I need to get a new book written in time for another conference early next year, which means I need to decide on the topic right now if I'm to have any chance of getting it done in time: the most likely topics are the 'Business Anarchist' theme or the '#RBPEA' (really-big-picture enterprise architecture) theme – both of which focus on what we might call the 'Chaotic' domain. And I've been retrieving all of my old blog-posts for potential re-publication – which hence included reviewing the sheer misery of all those fights with Dave Snowden about the (to me) apparent inadequacy of his Cynefin framework concerning the Chaotic.
In short, I've been primed to focus on the Chaotic, which, recursively, also means primed for working with the Chaotic. Which is exactly what's happened for me here.
To understand chaos, watch for the collisions – and if those are too small to see, watch for their higher-order impacts. The classic illustration of this is Brownian-motion: we can see the chaotic movement of energised particles in air by observing their impacts on larger and more visible smoke-particles in the same space. In pure Brownian-motion, though, there's no decision, no choice: it's all just billiard-ball mechanics. Once we add choice to chaos, a subtly-different yet sometimes very-different story emerges: something that can look like collaboration, yet has fundamentally different roots.
So: watch the collisions; watch the choices; watch the impacts; watch the outcomes.
The key point here is that I've been primed to work in and with the Chaotic space. I'm somewhat of a loner in terms of the I work, and right now I'm stuck (or rather, I was stuck before all this happened: I'm not stuck now, because of what I'm describing here). I need an impact from something else to get the whole thing moving again: but I have no idea – and no 'control' about from where that trigger-impact will arrive. In a sense it's like a supersaturated solution, or a set of sub-critical nuclear masses waiting to be brought together: just waiting for the right 'co-incidence' to happen. And when it does happen, things tend to happen fast.
First collision: I've been talking this weekend with Kevin Smith of PEAF fame, at the latest of our irregular yet much-looked-forward-to 'HEC meetings'. ('HEC' is the archetypal English 'ham, egg and chips'. 🙂 ) He's just come back from the Philippines, where the traffic may often be most definitely, uh, chaotic. And yet, it works, he says: "there are just two rules, or principles: if you see a gap in the direction you want to go, take it; and don't hit anything!".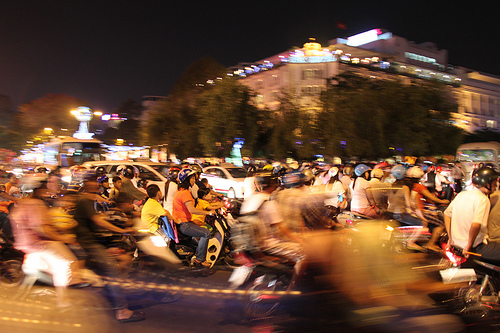 Kevin also added an interesting point: no-one gets angry, he said, because no-one's 'breaking the rules' – because in effect almost no-one acknowledges that there are formal 'rules of the road'  for anyone to break. It's not collaboration in the normal sense: everyone has their own divergent aims. And yet that divergence somehow supports the shared convergent aim that everyone should be able to get where they want to go, as quickly as possible and with the minimum of fuss and 'chaos'. Gridlock most often arises from misguided attempts to 'control' the chaos, whereas by working with the chaos we end up with what we need.
Next collision: a personal-Tweet from Kai Schlüter, about an article he's seen: "seems to tie in well to your SCAN and my 'Don't panic' thinking", he says.
Which brings me to the next collision. The article to which Kai alluded, 'When should we collaborate?', is by another close colleague, Shawn Callahan of Australian knowledge-consultancy Anecdote; it's a guest-post on a site I don't often visit, which is probably I hadn't seen it before. To describe collaboration, Shawn uses the Cynefin framework, but in a most peculiar 'two-kidneys-and-half-a-brain' layout: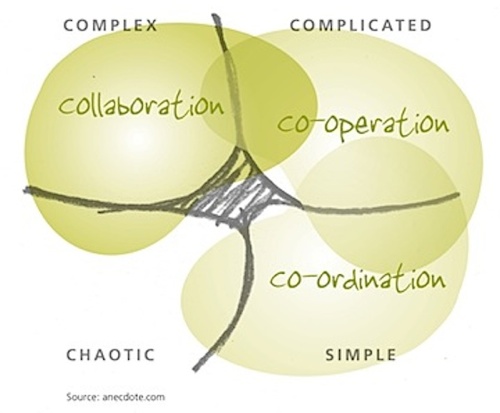 Shawn uses the example of performance-reviews to illustrate different types of 'collaboration', which he in effect summarises as 'working together for mutual self-interest'. His aim is to show that the term 'collaboration' is misleading because there are actually several distinctly-different types of interactions going on. He then uses the SCCC (Simple, Complicated, Complex, Chaotic) categorisation of the Cynefin framework, as per that layout above, to help tease out these often-crucial distinctions. I'd summarise Shawn's description as follows:
Simple-domain: co-ordination – literally, 'following orders together'
Complicated-domain: co-operation – literally, working together on the same predefined task, but usually with an emphasis on the task rather than the 'working'
Complex-domain: collaboration proper – literally, a sharing of work, with shared-aims in an emergent context
Those distinctions are important, and I think this is a great way to describe them. Yet as the diagram implies, once we come to the Chaotic domain, all that Cynefin can show us is, as the Bellman would put it, 'a perfect and absolute blank':
The last domain of the Cynefin framework is chaos. This is where it's impossible to discern a relationship between cause and effect. The best approach in this domain is simply to take action. Paradoxically it really doesn't matter which group style is used here, as any way of working will either create opportunities in the complex space where collaboration can take effect, or push the situation into the simple domain where a co-ordination approach is effective.
As I understand it, this is an entirely correct interpretation in Cynefin: it's certainly what Snowden has argued forcefully, many times, in his comments on this weblog. He even says in his most recent comment here that "Chaos in Cynefin is a transitionary state" – in other words, the Chaotic should perhaps not really be regarded as a 'domain' at all. And despite what Snowden may say, it's very clear in the published 'Cynefin dynamics', and in Shawn's description, that in Cynefin the way we're supposed to deal with the Chaotic is to not be there:  such as in Shawn's reassertion above of the 'official' Cynefin tactic for the Chaotic, that we should always 'take action' – any action – for the purpose of moving us to another domain.
It's also abundantly clear to me, from the way Snowden's described it, and as echoed in Shawn's description above, that there's almost no difference between Cynefin's 'Chaotic' and its central sort-of-domain of 'Disorder': they're both places that, according to Cynefin, we need to get away from. Which, when we look at the real-world chaos of traffic in Manila or Saigon or so many other 'rule-free' places, or when we look at the Brownian-motion-like context of this post, is a woefully-inadequate way to describe what actually happens in these 'chaotic' spaces.
That's what the Cynefin model states. If Snowden wants it to say and mean something else, he needs to change the model: simple as that, really. But I think it's unlikely that'll happen, not least because of the huge investment in the centrality – and supposed finality, in terms of business-consultancy and the like – of emergence in the Complex domain, and the position of Cynefin as a core reference-model in that space. This trap for Cynefin itself is illustrated well in one of Snowden's own slides, in which there's a purported ascent from the Simple through the Complicated to the Complex – where there is a sudden and supposedly final stop, with anything from the Chaotic realm to be firmly expunged from the real-world story.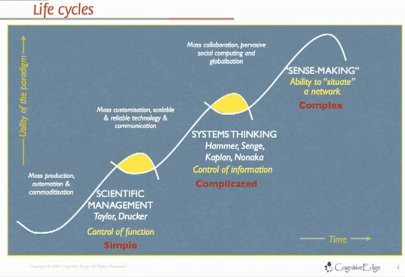 As I've explained in posts such as 'Complexity, chaos and enterprise-architecture', this has never made sense to me: even in terms of basic logic, it's clearly absurd to exclude an entire domain that is supposedly part of its own framework. For anything that does have to deal with real-world chaos – as enterprise-architecture certainly must – Cynefin is frankly too incomplete and too misleading to be safe to use: hence the explicit warning, in my post 'Using Cynefin in enterprise-architecture', that the best way to use Cynefin in EA is to not use it at all.
Yet if Cynefin is inadequate for our purposes, and – as Shawn indicates – has no real means to describe sensemaking and decision-making in the 'Chaotic' domain, what can we use there?
Which is where the next collision comes into this story.
Kai Schlüter followed up his Tweet with a post on his own website – 'EPIC SCAN in GLUE' – linking Shawn's Cynefin-oriented article to a rather nice categorisation of complexity-types ('EPIC') by Richard Veryard, and thence to Kai's own enterprise-architecture framework ('GLUE') and my SCAN framework for sensemaking and decision-making.
We'll keep EPIC and GLUE out of this for the moment, but it seems to me that there's some real value here in a cross-comparison between Shawn's 'collaboration-Cynefin' and the decision-oriented version of SCAN – because it might help to show us what 'collaboration' really looks like in the 'Chaotic' domain. SCAN and Cynefin do have similar layouts, but with opposite orientations, so the easiest way to do the comparison is if we apply a horizontal-flip to Shawn's diagram: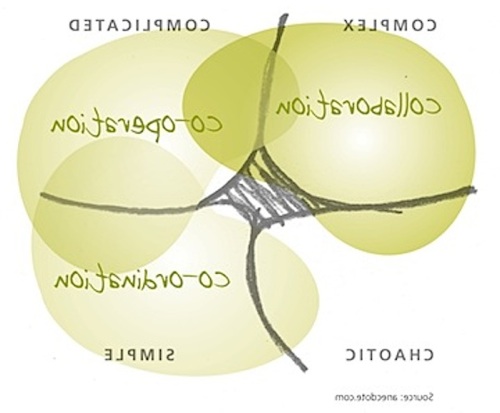 And then compare it with the SCAN frame: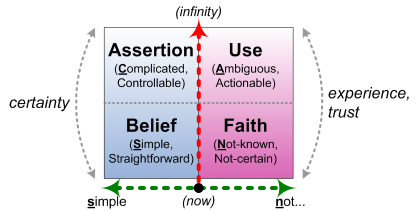 The comparison tells us straight away that, exactly as I've described above, there's a bloomin' great hole in Cynefin around dealing with the 'Not-known' or inherently-uncertain, particularly in terms of what happens as we get closer to real-time action. (See also the post 'Comparing SCAN and Cynefin' for more on this.)
That cross-map also reminds us about the crucial distinction between 'belief' and 'faith' – rule-based versus principle-based decision-making during real-time action – which doesn't appear in Cynefin at all: there's either 'follow the rules', or a kind of 'nothing' that we're supposed always to avoid. If we're to fully understand collaboration, we need something that would help us to understand and work with whatever kind of collaboration exists in that Chaotic space – rather than merely run away from it as fast as we can, as Shawn's post and Snowden's assertions would both seem to imply.
There's also another twist here in that real-time decisions are personal, not collective: that's one of the key distinctions in the domain-transitions in the vertical-dimension in SCAN. Hence we can sort-of 'legislate-away' any discussion of collaboration in the Chaotic by saying that it's not 'real collaboration' because it's not direct person-to-person collective: that's a possible excuse that's kind-of implied in Shawn's description above, for example. Yet if that's so, why would we include coordination in scope for discussion? – because that's an externally-imposed rule applied to personal real-time decision-for-action.
Whichever we look at it, Cynefin's refusal to engage in real-world Chaotic ends up looking more and more like the IT-centric view of 'business-architecture': every Other viewed solely in terms of its relation to the arbitrarily-chosen 'the centre' – in this case, the Cynefin view of the Complex or emergent. Which, in practice, makes Cynefin about as unhelpful and misleading as IT-centrism or any other form of 'anywhere-centrism' already is in real-world enterprise-architecture.
Anyway, let's just ignore Cynefin here from now on: as with many other enterprise-architecture concerns, it doesn't work for this purpose, and that's really all that needs to be said.
What we need here instead is the kind of description that explains how tools such as checklists can bridge across the Known/Not-known divide, and support individually-driven yet sort-of-collaborative decision-making and action in real-time. What we have so far from that crossmap is as follows:
there's clearly some form of collaboration other than 'coordination' that happens at real-time, because we see it in 'chaotic' traffic and in the 'Brownian-motion' collisions of ideas that underpin this post
it's about working with the 'Not-known' as itself, rather than either pretending that it doesn't exist, or viewing it solely as a means to get to a more-understandable form of collaboration
it has something to do with 'faith', in the SCAN sense – about open-ended principles that acknowledge a context broader than just oneself, yet to guide personal real-time decisions and actions
in terms of real-time, it has an implied relation with 'belief', in the SCAN sense – about supposed context-neutral rules to guide and coordinate actions with others who follow the exact same rules
in terms of 'unorder', it has an implied relation with context-dependent assessment of 'use', in the SCAN sense – non-real-time experimentation and collaboration, with an expectation of 'failure', but a preferred strong emphasis on 'safe-fail'
in terms of real-time unorder, it has some implied conflict with 'assertion' in the SCAN sense – here, algorithms for cooperation, externally imposed yet without adequate awareness of real-time context
Which tells us quite a bit about what we'd need to find here, but doesn't tell us what it is. Tricky…
Yet this is where we hit up against another collision of ideas.
The other crosslink that Kai mentioned in his post is to my Jungian-derived 'Swamp metaphor', about a set of mutually-distinct yet interrelated 'ways of working' on and with the real-world – modes of combined sensemaking, decision-making and action:
Which in turn aligns well with SCAN: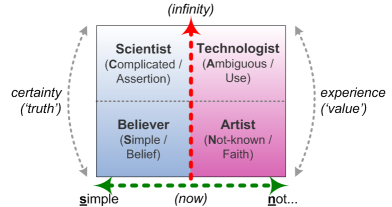 Which adds three more themes to that list above:
this whatever-is-is focusses on things and decisions that not only are personal, but have some sense of 'personal value' or 'subjective value' about them – or 'self-interest', to adapt a term of Shawn's from that article
it links to personal experience and (via the crossmap back to the SCAN decision-making frame) to trust in both an individual and collective sense
we have a label – the 'Artist mode' – to describe the types of interactions and choices and decision-criteria in that type of context
And it's quite an accurate label. As with other 'natural anarchists', it's notoriously difficult to get artists to collaborate, and even harder to get them to cooperate – let alone coordinate – as in Shawn's terms above: it's much like the apocryphal impossibility of 'herding cats'. And yet they do collaborate, sort-of: hence that quote so often attributed to Picasso, that "good artists copy, great artists steal". The real key here – exactly as Shawn indicates in his post – is that it depends on what we mean by 'collaborate'…
As Shawn says, about the 'Chaotic' domain, the domain of the 'Not-known', that:
This is where it's impossible to discern a relationship between cause and effect.
That's entirely true: we define the 'Chaotic' by saying that it's a context that has no discernable relationships between purported-cause and purported-effect. But why bring those notions of 'cause and effect' into the collaboration picture? Doing so risks forcing us into circular-reasoning:
we make an arbitrary assertion that collaboration only exists where there is identifiable cause-and-effect
hence collaboration can't exist where cause-and-effect can't be identified
so we don't look for collaboration in the Chaotic, because there is no cause-effect there
because we don't look for collaboration in the Chaotic in any terms other than cause-and-effect, we don't find it there
which is then taken to 'prove' that collaboration occurs only where there is apparent cause-effect
Reality is that we don't need an assertion of a purported cause/effect relationship in order to understand the collaboration: it's a kind of collaboration that just is.
What we do need to do instead is look for forms of collaboration that don't depend on cause-effect relationships – and, given Shawn's criteria, that also probably don't depend on direct mutual self-interest.
So what do we find in the Chaotic domain? Well, one direct example, as can be seen in how this post happened, is that serendipity is a form of collaboration: Kai and Kevin and I have bounced off each other here, and bounced ideas off each other, in ways that arguably have no direct cause-effect relationships at all.
Another example is the 'chaotic' traffic: by holding to the principles ('Chaotic', 'Not-known', 'faith') rather than rules ('Simple', 'belief'), everyone gets through the mess in the best way that they can, with a higher throughput than would be obtained by formal controls (see, for example, the outcomes of the Bristol experiment in removing traffic-lights [PDF]). In effect, what we see there is a kind of 'collaboration-without-collaboration': and it works, by working with the chaos, rather than trying to pretend that it doesn't or 'shouldn't' exist.
Which brings us to another point to add to that list:
each player in the context will have their own divergent aims – personal 'self-interest' – though these aims may be somewhat related (everyone wants to get through the traffic, all of the artists want to create in their own way)
What we have there, in that form of 'collaboration', is divergent individual-aims, but also some form of convergent collective-aims: both distinct 'self-interest, and 'mutual self-interest', in a context where there are no direct cause-effect relations, but where there are explicit and/or implicit constraint relationships.
Mention of constraints, though, may lead us straight into yet another trap. The constraints can be seen at the big-picture level, and collectively will drive toward what clearly are emergent-effects: this might lead us to think that we're dealing with here sits comfortably in the Complex domain, as per Cynefin and its ilk. But the decisions that drive that emergence all take place in real-time, as individual, personal choices – which places it correctly in the Chaotic/Not-known domain, not the Complex. If we get this point wrong, we will have no means of understanding how collaborations actually do play out in the 'chaotic' space.
Finally, a suggestion for how to extend Shawn's triad of 'collaborations' into a complete four-part set. The Artist would often talk about inspiration, yet what we have here is individual inspiration that arises from collective 'collisions' with others. Which implies:
Chaotic-domain: co-inspiration – literally, a 'breathing-together' of work or whatever, with individual aims briefly supporting each other in inherently-unpredictable ways within a somewhat-constrained, opportunity-rich yet inherently-unpredictable context
Classic collaboration always has convergent aims; chaotic co-inspiration always has divergent aims that somehow, for some brief moment, converge and then diverge again, often repeatedly and recursively, within the respective context.
So, the obvious next point for the enterprise-architects here: how do we design for co-inspiration in our enterprises? An interesting challenge, I think…?
Comments/suggestions, anyone?