Making sense in disruption
An unexpected referendum result in one smallish country that triggers business-uncertainty on a literally worldwide scope and scale: that's Brexit. A nice example, in fact, of what's really meant by the term 'disruption'.
What happens when those 'rules' by which you thought the business-world worked have suddenly gone? How do you make sense in the midst of uncertainty?
Okay, you might say this a bit of a sales-pitch, but that's where the professional skills of people like me – the sensemakers and storyfinders – would come into the picture…
Classic business-analysis is enough for simple, localised disruptions, when only one part of the business is affected, and the rest of business world stays stable. But when great chunks of seemingly-certain assumptions have suddenly broken down, and the business-models and operating-models that depend on them have effectively disappeared overnight, you'll need the very different skills of whole-enterprise architecture and the like. You'll need people who know how to work with inherent-uncertainty in a disciplined way – those that we might somewhat-jokingly describe as the 'business-anarchist':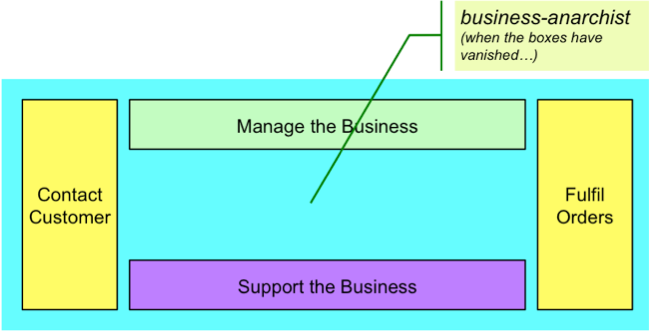 The process of sensemaking and decision-making may depend on different assumptions than those you might be used to, but it still has exactly the same intent – to deliver real business-value, fast.
It's not about providing predefined 'solutions' – because they rarely work for these types of business-need. Instead, it's about exploring and mapping out the context and its possibilities – or what we call 'context-space mapping' – using visual-checklists to guide conversations and dialogue, and elicit new insights. As we do this, the 'solutions' that we need will arise, almost automatically, from and within the process of exploration itself – a continuous, multi-layered loop of sense, make-sense, decide, act, and then back to sensing the outcomes again.
For example, we might start by establishing and mapping out the organisation's business-context, the respective stakeholders, and the underlying story that links them all together into a shared-enterprise:
From there, we might use tools such as SCORE to map out the organisation's options and challenges, and how to best use its existing and new capabilities to meet those needs: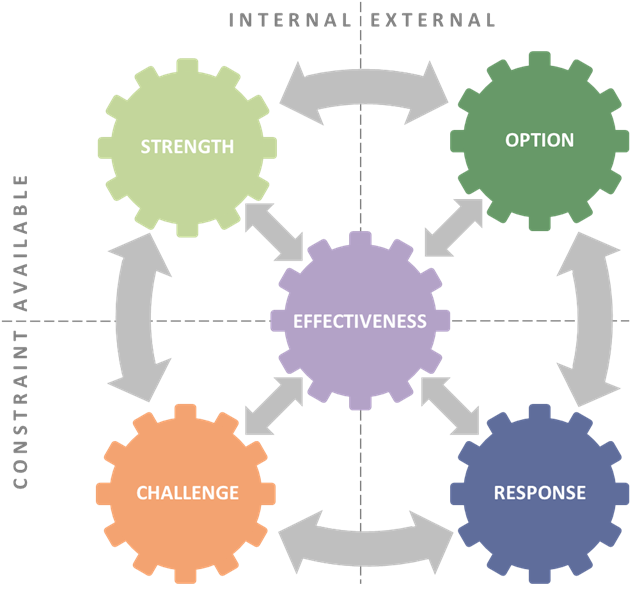 And to support that, we might do a side-exploration of hidden complexity in the context, using the SCAN framework and any of its various overlays. For example, we might use a SCAN overlay to help us identify the crucial distinctions between 'tame-problems' and 'wild-problems' in the context, that indicate which decisions – and the actions that arise from those decisions – either can or can't be automated: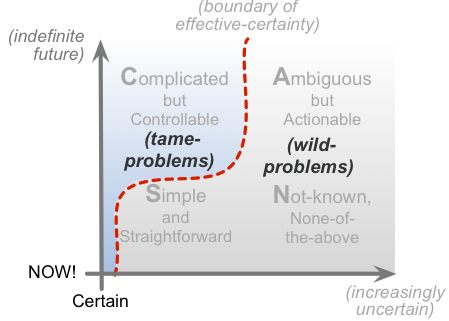 From those insights and guidelines, we can start to map out the services that we'll need, and the business-models and operating-models that would use them, in order to rise to the new challenges. We might then explore the structures and story for each of those services – all the way down to the fine-detail of implementation, and more – via a frame such as Enterprise Canvas. With that, we could start the exploration in a simple way, at the level of what we might scrawl on a whiteboard: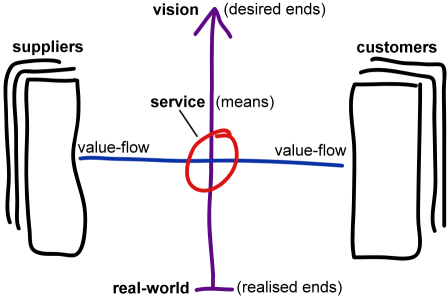 And then, if appropriate, move on map out more detail about the interdependencies that underpin each service's effectiveness for the enterprise, with further visual-checklists from the same suite of tools that likewise work fractally and in the same way at any scope or scale or level:
Or maybe even deeper, and deeper again, into different aspects of the detail, if need be: there are plenty more tools in the sensemaking–toolkit! Perhaps the most important of these is what we might summarise as the Sensemaker's Mantra:
"I don't know…" – but I know how to find out
"It depends…" – and I know how to find out what it depends on
"Just enough detail…" – and I know what level of detail will be needed
These graphics above aren't 'models' or 'plans' in the classic big-consultancy sense. They're just visual checklists, whose purpose is to guide exploration of a context – yet also, as checklists, ensure that key concerns are not missed out from that exploration. And the point here is that – again unlike the classic consultancy approach – the only person who can know what's best for your business is you. Disruption merely reminds us of this fact…
(The catch, of course, is that it requires each person to take responsibility for what happens, rather than relying on some external 'adviser' to make decisions – yet that's the only way that works, especially in the longer term.)
And of course this isn't just about my colleagues and I, and the services that we could deliver. There are plenty of others with similar approaches and similar toolkits: search for people who work in themes such as 'design-thinking' or 'systems-thinking' or 'whole-enterprise architecture', for example. The main point to reiterate, again, is that the classic 'business-analyst' toolkit only works well in a business-world that's relatively stable – and that isn't what we're facing now.
So if any of this might be useful to you, do get in touch. In any case, please do join in on the conversation here, to help us all find better ways out of the 'disruption' mess. See you there!
—
(Oh, and if you think Brexit is about as disruptive as it gets? – as a futurist I'd say I'd still only place it at around MQ-4 to MQ-5 on the nine-point exponential Mythquake scale. In short, you ain't seen nothin' yet… – it's probable there's much more turbulent times ahead… Which is why we definitely need to get ready for it, with tools and techniques such as these. In my opinion, anyway.)