Culture, remarkable
What is culture? Can we change it? And should we?
A whole stream of insights on this arising from an innocuous-seeming tweet this morning from Shawn Callahan:
Culture is when something happens and it's not remarkable.
Culture is what we don't see. It becomes invisible when it works well for us, is so everywhere around us that it disappears into the background of how daily life works for us: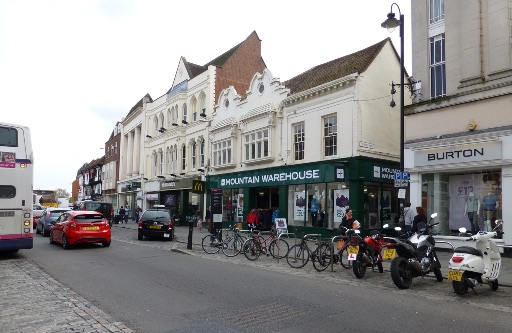 An ordinary street in an ordinary town, that itself is part of ordinary English culture. So ordinary and everyday to us that, yes, it often seems utterly unremarkable. All kinds of things that we just don't see, assumption upon assumption upon assumption. Water, power, communications, all hidden beneath the street. Shops built not only out of bricks and glass and concrete, but also all of those hidden assumptions about transactions and trade and money. Roads built on assumptions about traffic, and different types of traffic intermingling. Daylight and nightlights; security-cameras and street-crossings. An odd culture of apology, too: even the buses sometimes have signs that say 'Sorry: Not In Service'. Culture.
Culture is also in what isn't there. No guns, for example. No shotgun-toting guards outside every store, as I've seen in some other countries elsewhere. No gates around the town: the old town walls do still exist, dating right back to Roman times, but the last time they were used for real was almost four hundred years ago. So unremarkable now that the bullet-holes from that time on an ancient hotel are remarked upon as some kind of attraction for tourists.
(It's true that there'll be barricades in town today, but that's for an annual half-marathon race. Which might be remarked upon by some, but the fact that it'll take place at all is interestingly unremarkable.)
Yet if culture is 'that which is not remarkable', often it only becomes visible to us when it doesn't work well – when its hidden assumptions don't work well for us, even if they maybe do for others.
And those hidden assumptions in a culture can be a trap in other ways, because they can allow us to hide away in an echo-chamber of self-delusion, dangerously disconnected from the harsher realities of Reality Department.
So how do we avoid that trap? And how can we be sure that that our current culture is effective – that it meets everyone's needs, now and onward into the future? If Reality Department is changing around us, how can we change culture to match, so that can best continue to meet those needs?
The short-answer that we can only change a culture if we can see it. We can only change a culture if we can make its hidden assumptions come out of hiding.
In terms of social-linguistics, we would do that by making culture 'problematic'. Which is a bit misleading, because culture isn't a problem. (Unless it is a problem, of course.) Not a problem that can be 'solved', at any rate.
So perhaps a better way to put it is that we bring those hidden-assumptions out into the open whenever we remark on what is 'not remarkable'. Once they are out into the open, we then have choice about what we choose to assume, about what we choose to change.
And a culture that can meet people's needs would indeed be remarkable.
In short, to make and maintain a remarkable culture, we need to remark upon that which is not remarkable.
An insight to which you might remark, perhaps? 🙂