More on meta-methodology ('Beyond-Cynefin' series)
(This series of posts explores alternate uses of the Simple/ Complicated / Complex / Chaotic categorisation originally described in the Cynefin diagram. This discussion is not about the formal Cynefin Framework; for details on the Cynefin framework proper, please contact Cognitive Edge. The term 'beyond-Cynefin' is solely a placeholder to indicate this separation of concerns.)
Back to theory again – apologies… – following on from comments on the previous posts, especially 'On meta-methodology'.
The aim of this post is to try to create a bit more clarity around the notion of 'problem-space' versus 'solution-space'. To do this, I'll draw on a variety of sources, ranging from dowsing to enterprise-architecture, Sigurd Rinde's work on 'barely-repeatable processes', activity/response-models such as OODA and PDCA, and much more besides.
Will again be long, hence more after the 'Read more…' link.
Two key criticisms came up on the previous post on meta-methodology, as you'll see in the comments. One was from Sally Bean:
One thing that does slightly jar with me in this particular posting, and elsewhere, is the use of the words problem and solution, which both suggest bounded spaces, when the reality is often much fuzzier, especially in the unordered domains. I strongly share the views that David Gurteen expressed in this recent comment on his website. http://www.gurteen.com/gurteen/gurteen.nsf/id/no-solutions. And of course, Ackoff used to talk about messes, rather than problems.
The other was from Paul Jansen:
I would like to 'add a dimension' (if you like) that I feel(!) is an intrinsic part of the quest at hand (meta-methodology). I speak of the relationship between the 'interventionist' and 'the subject'. As it is with the inter effecting aspects of diagnosis and intervention, so it is at least equally true for the 'performing artist' and 'his subject' for either diagnosis or intervention. As the quote goes: "we find mostly what we look for", and this is very true, it must be that the 'consultant' starts to effect the object of his attention immediately, a process which is part of what we should call 'meta-context'.
[T]hat thought … has been lingering for some time now since a great deal of the interchanges so far seem to imply 'no relationship whatsoever' between the person doing the diagnosing and interventions and his 'object' of these.
To summarise, these are about the dangers of any purported separation between 'problem' and 'solution', and between 'subject/object' and 'observer'.
What I'm suggesting, I suppose, is that yes, those separations are artificial, but we do need them in order to able to respond appropriately within a given context (hence my re-framing of 'responsibility' as 'response-ability').
In essence, this is like the now fairly old physics-problem of "Is light waves or particles?". The short answer is "Yes, therefore no", which isn't very helpful.  🙂 In a science, this kind of inherent uncertainty can be a serious problem; but n a technology, we can choose to view light as waves, or as particles. Even though the two views are inherently incompatible at the quantum-level, both views are functionally 'true', therefore potentially useful: to use the physics-terminology of the time (Heisenberg? Schrodinger?), we "collapse the wave-function" according to perceived need. In other words, we use an artificial separation – though we do need to know and remember that the separation is not actually real.
John Boyd's OODA (Observe / Orient / Decide / Act) model is useful here. The first phase is to observe what we see as 'reality'. The catch here, as Paul Jansen implies above, is what I've elsewhere termed 'Gooch's Paradox', after the psychologist Stan Gooch: "things have not only to be seen to be believed, but also have to be believed to be seen'. The result is that much of 'observe / orient' is an iterative process in itself, driven in part by culture, as John Boyd also notes, in a quote in the Wikipedia article on OODA:
The second O, orientation – as the repository of our genetic heritage, cultural tradition, and previous experiences – is the most important part of the O-O-D-A loop since it shapes the way we observe, the way we decide, the way we act.
This is one key reason why it's important to provide a multiplicity of 'views' into the same nominal space. Some of these views will conflict – and the resulting 'confusion' should help to force us to observe more closely, not just the context, but also ourselves as part of that context. To use that previous terminology, we create a space within ourselves to prevent the 'wave-function' from collapsing prematurely.
So to adapt Shawn Callahan's excellent video-summary of Cynefin, we could see the first stage of interpreting the 'problem-space' (i.e. 'reality') as a quick assessment of how cause/effect seems to work within the context: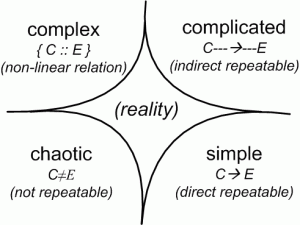 And so on, with other views into 'reality', and how we perceive that 'reality'. The process of interpreting 'problem-space' and deciding on an appropriate response takes place in what I've termed 'solution-space' – in other words, the 'Decide' phase of the OODA loop, or, to use that physics terminology, the period whilst we hold the wave-function 'uncollapsed'. All of the various cross-maps I've described in the previous posts [see the list of links at the end of this post] are tools that we might use within 'solution-space'. Overall, some of the key factors that I see in play within 'solution-space' can be summarised in yet another cross-map:
Some of the choices we have are driven by the amount of time available before we have to commit to a decision (and subsequent action). The closer we get to real-time, the fewer options we have to reflect, experiment and analyse – which means, in effect, that we're all but forced to choose between Chaotic or Simple. And if we're not able to accept 'chaos' for what it is, we end up trying to 'take control' of something that, by definition, cannot be controlled. Which is not a good idea…
(This is the core of my disagreement with Dave Snowden and others around Cynefin: they've done amazing work on bringing the Complex domain closer towards real-time, but to me it still doesn't seem to make any real use of the Chaotic domain in its own terms. Instead, as Shawn explains in the video, almost the only tactic offered is to 'take immediate action' to force it into another domain – which, in the real-time context, would necessarily push us toward the potentially-dangerous over-simplifications of the Simple domain.)
Another key point here is that every possible view of 'reality' – the 'problem-space' – is an abstraction. (One everyday example is that digital sound-recording is an abstraction of analogue – and there's always some loss of potentially-important information within that process of abstraction. A long-established adage in systems-thinking is that the only complete model of a system is the system itself: everything else is an abstraction.) The Simple domain provides the most obvious extremes of abstraction; yet although the Chaotic domain is much closer to 'reality' in that sense, it's still necessarily an abstraction of some kind.
In that sense, there can never be a perfect alignment between 'problem-space' and 'solution-space' when we 'collapse the wave-function' in the decision immediately before action (and, recursively, in the decisions we take n the nested OODA loops within that action). In short, we never get it right. 🙂
The aim of recursive models such as OODA and PDCA is to allow us to iterate closer towards the 'unachievable ideal', either within the action (as in OODA) or over a series of actions (as in PDCA). What I'm aiming to do with this notion of 'solution-space' is to provide a perhaps-better map of what actually happens within  those loops – in other words, to provide a means to map out the 'orient / decide' pathways.
Real complexity occurs whenever 'cause' and 'effect' are interdependent – as they are in virtually every ecosystem – and/or whenever we touch a social context – frequently leading to 'wicked problems'.  It seems to me that the 'mid-range' of such complexity is already well-served  by tools such as Cynefin and the PDCA cycle; yet as with classic physics, those techniques seem to become less useful or usable as we move towards the far extremes:
the 'very small': a 'quantum event' of a single person applying a skill to a single (if sometimes nominally ongoing) real-world event – such as in dowsing, or in Sigurd Rinde's concept of 'barely-repeatable process'
the 'very large': a 'cosmology' of an entire conceptual ecosystem – such as in a whole-of-enterprise architecture that applies to the full lifecycle of an enterprise
The 'run-away-to-another-domain' tactic implicit here in Cynefin pushes us towards the Simple domain in both of these cases – either as overly-simplified real-time 'rules', or excessive large-scale abstractions. So how can we instead hold back against the inherent 'panic', and work with the inherent uncertainties of the Chaotic domain? That's what I'm after here.
The set of 'disciplines' that we described in 'Disciplines of Dowsing' (pp.31-70 in the e-book version) provide one such summary for a specific class of Chaotic-domain skills (i.e. for use in inherently non-repeatable real-time contexts). As I've described in earlier posts, I'm also working similar sets for other contexts such as subjective-archaeology, but there's a lot more that could be done in mainstream business with those same principles – such as sales, or maintenance, or anywhere else that has a high degree of non-repeatability. (Anyone who's interested in working with me on this, please let me know! 🙂 )
Right now I'm working more at the 'very-large' scale, such as whole-of-enterprise architecture – as documented in some of my books, such as 'Doing Enterprise Architecture' and 'The Service-Oriented Enterprise'. The challenge there is not so much about rapid response (as it is in real-time skills) but in the sheer scale and scope of the contexts that need to be included, from the very small – individual details of individual processes – to the very large – interactions with an entire market and milieu over many decades.
In both cases it seems to me that the most important requirement is empathy – in other words, engagement with the context as itself and in its own terms, whilst also maintaining a clear sense of 'self' so as to be able to move around within the 'problem-space' and 'solution-space' before 'collapsing the wave-function' to make practical, real-world decisions. To keep it closer to the Chaotic domain of 'solution-space', we need to emphasise the 'values' end of the 'truth/values' decision-making spectrum. Perhaps paradoxically, cross-maps such as those I've described in the previous posts seem to help at both of those two extremes of scale, by providing recursive real-time checklists for rapid decision-making, yet also with an inherent breadth and depth of scope that enables a naturally holistic overview of the entirety of a context.
That's where I've come to so far with this, anyway. As usual, any constructive comments, ideas and suggestions would be most welcome 🙂 – over to you on that?
Previous posts in this series: