An acronym for (enterprise) effectiveness
What's a quick way to keep reminding ourselves about effectiveness in the enterprise, and that tagline of "things work better when they work together, on-purpose"?
My suggestion for this is the somewhat-contrived acronym LEARN:
e

L

egant – clarity, simplicity, consistency, 'feel', self-adapting for human factors

E

fficient – optimises use of resources, minimises wastage of resources

A

ppropriate – supports and optimises support for the respective vision, aims and purpose

R

eliable – predictable, consistent, self-correcting, supports 'single source of truth' etc
i

N

tegrated – creates, supports and optimises synergy across all systems
The point about effectiveness is that we could always do it better – which means that there's always something new to learn.
I often link this with some of James Carse's themes in his book Finite and Infinite Games:
a finite game is played with the purpose of winning (thus ending the game);
an infinite game is played with the purpose of continuing the play.
If we're only playing a single finite-game that's bounded and delimited by predefined rules, then effectiveness doesn't really matter – or rather, effectiveness is defined as 'winning the game, within the rules of the game'. We need to learn the rules (or, in too many cases, learn them so as to find loopholes to exploit…) – but once the game is over, there's nothing more to learn. We won, or we lost – that's it.
But the moment we're playing more than one game, it's no longer about just that one set of rules – our finite-game is in the context of an infinite-game. (At this point, hunting for loopholes to exploit is something we'd want to dissuade, because it destroys the shared-purpose of the game…) And effectiveness in that sense above really starts to matter:
elegant: design for human-factors helps people stay focussed, remember what they've learnt about plans and strategy, self-adapt to changing circumstances, apply their own 'body-learning' in real-time
efficient: manage energy, resources, not just to the end of this game but onward to the next, and the next
appropriate: keep 'on-purpose', not just in terms of winning this game, but engagement in the whole shared-enterprise around the game, such that every stakeholder wins in one sense or another
reliable: not just to win this one game, but to keep on winning, creating 'wins' for the entire shared-enterprise
integrated: every element supports everything else, across every finite-game and across the overall infinite-game of the shared-enterprise
In short, we need to LEARN – and keep a focus on LEARNing.
Continually.
For everyone.
With everyone.
There are plenty of well-known frameworks for this, including:
And for what it's worth, there are all the frameworks that I've developed for this, around whole-enterprise architectures and the like, such as SCAN, SCORE, Five Elements, Enterprise Canvas and the 'This' game.
It might also be useful to link all of this to another LEARN acronym, that I described a few years back in the post 'The LEARN principle':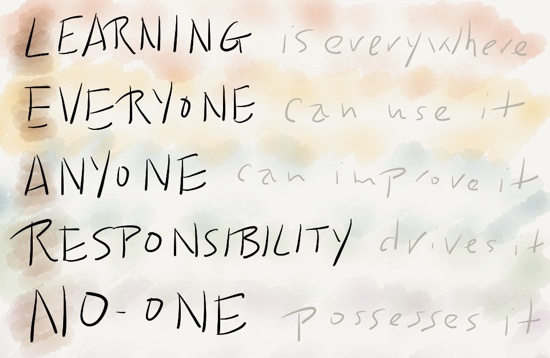 So keep the focus on LEARNing.
Continually.
With everyone.
For everyone.
eLegant, Efficient, Reliable, Appropriate, iNtegrated.
That's one way we can help to create effectiveness in the enterprise.
Just another idea to play with, perhaps?