Catching ideas in flight
Where to start with this one? Where the heck do I start? How do I get it to stay still long enough that I can start?
Threads. Words. Sort-of. Except that as soon as I start to write, it's gone anyway. Or changed into something else. Or something. Or not.
Have you ever tried to write your dreams? You know, those long, complex, tangled dreams in which everything depends on everything else and there's a kind of logic to it but there are sudden jumps and sudden changes of place and things return and don't and things that happen later affect the things that happen earlier or is it the other way round but as soon as you try to put it into words or even more as soon as you pick up a pen to write or draw or something the whole lot vanishes pffft gone…
What?
Where was I? Where's it gone? And shouldn't there have been a question-mark after all of that? Except there is now, but it's not the sentence I mean? And if it was in Spanish there should have been one in front the other way up too to warn that there was a question coming up, shouldn't there?
Hang on, what's happened here? Where's this going? Spanish? What's Spanish got to do with this? What happened to the, the, the dream thing, is, ish, whatever, but…
I'm lost.
And the ideas that were in that dream were lost too. Or they are now, anyway.
This happens a lot…
Okay, slow down, stop, stop, stop. Let's pull this back something more tangible, perhaps a bit less blurry, a bit less tangled, give it at least something resembling an anchor, such as Damien Newman's 'the Squiggle':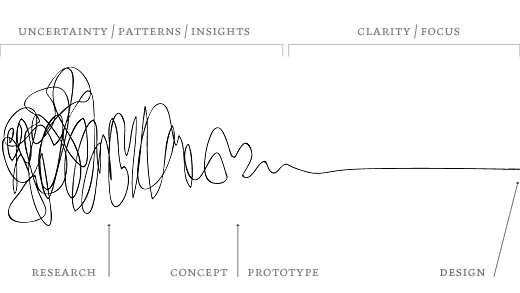 It's sort-of like that, I guess – but this isn't even the 'Research' bit at the left-hand end of the Squiggle, there's another whole stage that happens before even that part of the Squiggle, and that's what I'm trying to describe here. And I'm not describing it well, I know – but that's that's the whole point, that's what's so usual at this very first stage of the process, that it's so hard to describe, when the words themselves that we need so much seem to vanish into nothingness just as we…
It's like trying to grasp smoke: it's there, very definitely there, yet there's nothing to grasp, nothing to hold on to, it just slips through the fingers. That are trying to write, in this case, but they're still the same fingers. Probably.
Yeah, I know that there's lots of cognitive-psychology on this, that there are different parts of the brain involved, and as soon as we start up the physical-world activity to do the writing, the imaginary-world stuff kind of shuts down, so there's nothing left to write about. Kinda like trying to multi-task with something that isn't designed to multi-task, or something like that. Maybe.
But all that brain-theory doesn't say anything about how it feels. All I know is that I find myself kind of rehearsing or framing or testing-out all manner of different ways to phrase something when I'm assembling an idea or a picture in my head – but as soon as I sit down with a notepad or a keyboard, the whole lot vanishes, and what eventually comes out, if I'm lucky, is something much more clunky, much less clear, much less coherent and complete.
Which, unfortunately, then makes it much, much easier for others to misunderstand, to misinterpret, or to attack.
Which, unfortunately, also happens a lot.
Oh well…
So, to bring this back to context, I'm currently working on another
(There it goes – lost again. What was I going to say? – no idea. Stopped for the briefest moment, and it's all vanished: pfft… Thin air. Gone. Blank. Nothing.
Guess I'd best go make a coffee or something, hope that somehow that'll help it come back together enough to restart…)
Another…?
(what was it what was it what was it? – uh, okay, yeah, got it, think I got it… – get back to it before I lose it again – )
…I'm currently working on yet another longish series of posts (probably at least six of them), on another idea or assessment-method or something – about services and disservices – that is really really really important at the enterprise-architecture scale and beyond, but that many people are really really really not going to like, because of what it will necessarily show about the ways in which beliefs and suchlike can and will impact, in really really really destructive ways, in just about everything that we design and do.
Ouch…
In short, it's vitally important, yet it ain't gonna be popular. (Understatement of the year?) Again.
Which means I'm going to get attacked for it. Or worse. 'Shoot-the-messenger' and all that. Again.
Which means that I have be hyper-careful about how I describe it, so as to forestall or mitigate at least some of those all-too-probable attacks.
Which is turning out to be incredibly hard, because of the aforesaid way in which the words that I need to describe those ideas will just kinda vanish as I get anywhere near them.
Tricky…
And yeah, what makes it even trickier is that this is all architecture-type stuff we're talking about here. Stuff that's less about the things or the functions but the 'non-functionals', the qualities, the values; stuff that's about the connections between the 'things' and functions, the betweenness between the between; stuff that's about the 'meta-' and the big-picture, rather than the concrete, explicit, tangible; stuff that's often about inherent-uncertainties, about futures, rather than the often-spurious pseudo-certainties of the here-and-now. In other words, stuff that's not only pretty-much exactly what most people most do not want to hear about, but which is also incredibly hard to describe – not least because so many of the words we need to describe it with don't even exist.
Kinda like trying to build the scaffolding to hold up a skyscraper whilst standing way up in the sky where the top of the skyscraper will eventually be, with nothing to hold us up there, and all the scaffolding-poles in random piles way down there on the ground, too far out of reach for us to reach. And of the people coming past who care to glance at our predicament, most of them will not help us at all, but instead will try to kick down whatever it is that we do manage to build, as soon as we've built it, because the scaffolding looks ugly and the skyscraper isn't there yet for them to see and use and profit from right now. That's how it so often feels, anyway. Sigh…
Stressful, to say the least.
Stress that probably doesn't help, either, in terms of being able to catch, as they drift past, evanescent as smoke, those ideas and words and images that are needed for this. If it's to make any sense at all, that is.
Oh well. Just an occupational-hazard of the trade, I guess…
And yet I wonder: surely there must be a better way to do this? I presume I can't be the only person who struggles so much with this – this stage that has to happen before the Squiggle can even get started? If so, how do you cope with this? How do you catch those ideas in flight?
And is there any way that could help all of us to do it any better – to reduce the kind of struggle that you see here in this post?
Over to you for own ideas / experiences / suggestions, perhaps?