An inventory, sorted
I'll try for another way to sort and describe the current state of that stack of tools and methods that I've developed over the past decade or so, to guide business change and transformation, and that, for various reasons, I'd nicknamed the 'bucket-list'. As we're at last launching our Patreon page in the next couple of days, this should help make it clearer what exactly it is that we're aiming to fund via that Patreon.
I'm moving more to centring the whole tool-suite around the Five Elements frame:
The reason for using that as the centre is because it's a consistent method for change-guidance and change-governance that works in the same way for every type of scope, scale and context – such as described in depth, in this post, about a year ago.
One trivial complication is that although it's called 'Five Elements', there are actually six categories into which we might classify each tool. The sixth – or, arguably, the first – is the centre-point or pivot around which the Five Elements cycle will revolve: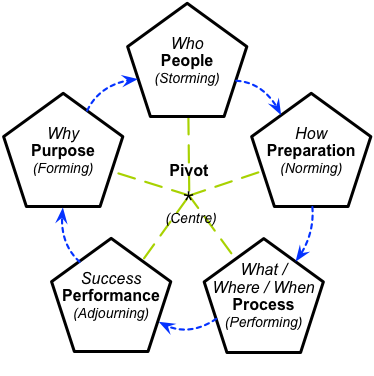 Anyway, here's that list of tools, in Five Elements order, with suggested keywords that point to each of the tools, and pointers to various sources that describe them.
(Each tool is listed in detail 'in' only one domain. In the occasional case where a given tool is used often in more than one domain, I've added references in the respective 'other' domains back to the 'master'-description in the domain where that tool is most frequently used.)
Pivot:
Purpose:
People:
Preparation:
Process:
Performance:
Miscellaneous:
Using the Five Element sequence, and nesting of Five Elements cycle, tools are often linked together in chains, to form a distinct step-by-step process. You'll see one example of this kind of 'chaining' of tools in the recent slidedeck for the IASA/ICS workshop on 'Tracking value in the enterprise', with ten steps from existing concepts of value, to identifying enterprise-stakeholders, to modelling value-flow, and on to mapping balance of value between investors, beneficiaries and all other types of stakeholders.
And of course you can link into this structure any other tools that you currently use, to create your own tools-chaining under the same consistent overall guidance-structure. The whole idea is that this is inclusive, and 'plays nicely' with whatever tools anyone might need to use. There's more detail on that in the posts '4: Content' and '5: Practices and toolsets' in the series on 'Towards a whole-enterprise architecture standard'.
Hope this makes sense? – do let me know, anyway.