The bucket-list
To quote Terry Pratchett's character Granny Weatherwax, "I ATEN'T DEAD". Not yet, anyway.
But the blunt fact is that I was born quite a long time ago. A time when there were still a fair few horse-drawn vehicles in our village, in real daily use. When television was experimental at best, and even telephones were still something of a rarity. When all the computers in the country – electronic computers, at least – could still be counted on one hand.
Yeah, that long ago.
So a few months back I passed that point known increasingly-ironically as 'retirement age'. Which, yeah, brings on quite a bit of that sense of urgency, about time running out. Time to think more about wrapping things up, rather than rushing off to join The Next Shiny New Thing.
Which is when I start to think about what I need to wrap-up, after a lifetime's work, to make it more usable for everyone else. And realise that, on my own, and with the lack-of-support that I currently have, it's gonna take a lot longer than I most likely have left. A lot longer. Probably at least twice the amount of time I have left, in fact.
Kinda sobering, that.
So let's stop and reflect on this a bit.
I've spent the past ten years developing tools and techniques for enterprise-architecture and the like. I've been probably one of the leaders of that part of the field, with a productivity in terms of breadth and scope of tools far greater than anyone else.
There is no doubt whatsoever that I've been one of the leading proponents of whole-enterprise architectures – an aspect of the field whose importance is only just beginning to dawn even on the self-styled 'leading-edge'.
I've been almost alone in exploring 'really-big-picture enterprise-architectures' (RBPEA) – architecture-methods applied all the way out to a literally global scale.
And to be blunt, most of my work has been at least a full decade ahead of that self-styled 'leading-edge', and, for the larger countries, probably yet another decade further again.
There's a catch, of course: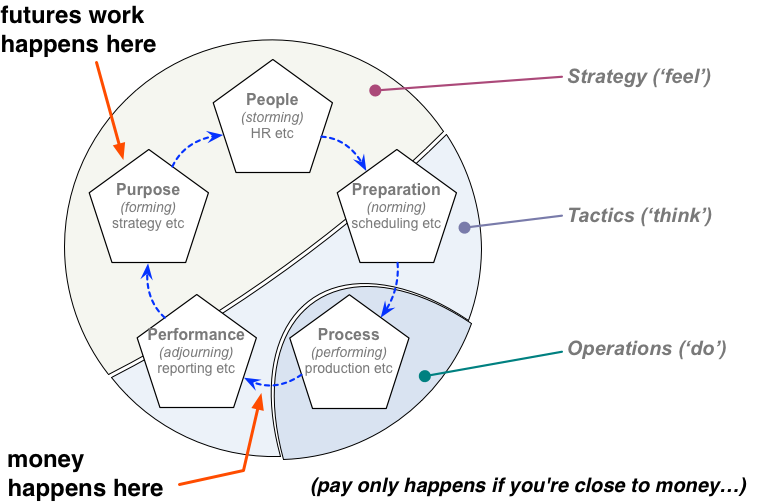 Being ahead of the market has a huge cost. A huge cost. Whilst other people are now literally making millions out of my work, for the most part I haven't been paid at all. Every day I get new enquiries – please review this, we need your advice on that, can you develop this for us? – yet almost no-one stops to think how much it costs me to do that, or the costs to develop those skills in the first place. Some people have even added insult to injury in expecting me to pay them for the 'privilege' of disentangling their mess.
Yeah, it's that bad…
Wherever I go, everyone seems to assume that I'm paid for by someone else: maybe they are, perhaps, but I'm not. I almost never have been. I've done it all the hard way. The very hard way. To give you some idea of how hard it's been, I've had just six days of paid work in the country where I live. Not in the past month. Not in the past year. But in the past decade.
How well could you survive on that?
In that decade, I've produced a vast corpus of work. A dozen books and more on enterprise-architecture and related themes. Dozens of slidedecks up on Slideshare and elsewhere. More than twelve hundred weblog-articles – the equivalent of another twenty books or more. More than two dozen distinct methods, frameworks and entire suites of tools, all freely available, most of them now in daily use worldwide. And for all of that time, I've limped along on less than minimum-wage. A lot less.
How well would you have been able to do that?
Relative to maybe most of my peers, I'm at least a million down. Count it in dollars, euros or pounds, it's still something like a million down. That's a lot. And that's because (almost) no-one bothered to realise that futures-work has be supported somehow – otherwise there's no future. Yet in supporting everyone else, but with almost no support in return, I've now run my reserves so low that I can longer afford to buy a home anywhere in the country in which I currently live. And even if I move back to a lower-cost country, right now I'm looking at a choice between somewhere to live and somehow to live, but not both.
How well would you be able to face that?
So the blunt fact is that I really, really do need to call a halt on this.
The blunt fact is that I cannot afford to work for 'free' on this any more.
It's got to stop.
I'd promised to do one more 'freebie' for you: a series of short YouTube videos, addressing specific questions on enterprise-architecture. (I'd describe it as a freebie because, once again, the chance of any monetary return from that is so low as to be not even worth the effort of trying to make it work.) And I'll deliver on that promise.
But beyond that, it's the bucket-list. For everything.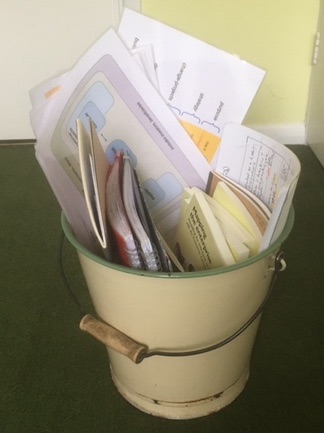 The 'bucket-list'? It's the list of contents for a trash-bucket full of tools that I can no longer afford, in any sense, to further refine and complete, unless someone pays for me (and probably others) to do so.
Everything I've done in the past decade is now in that bucket. SCAN, SCORE, NOTES, Five Element, Enterprise Canvas, and all of the others: they're all in that bucket.
Here's a kind of inventory for what's now in that trash-bucket.
First, tools that are largely complete, but still need some clean-up and commercialisation:
Some in-progress books on enterprise-architecture and related themes:
SCAN Sketchbook – step-by-step introduction to the sensemaking and decision-making with the SCAN framework [status: c.20% complete]
Enterprise Canvas Sketchbook – step-by-step introduction to modelling of services with the Enterprise Canvas suite of models [status: c.5% complete]
Making Sense (working-title) – general-market guide to making sense in complex situations [status: c.5% complete]
And detailed notes on apps, software-tools and notations for whole-enterprise architecture and more:
standalone app for the 'This' game – described in notebooks and blog-post
updated app for the SEMPER diagnostic – described in notebooks and blog-post, and the SEMPER Metrics web-app
standalone app for the SCAN sensemaking-framework – described in notebooks and blog-post
standalone app for Enterprise Canvas – described in notebooks and blog-post
standalone app for context-space mapping (generic frame plus plug-ins) – described in notebooks and blog-post
support-app for EA Maturity-Model – initial implementation in spreadsheet form
EA learning-game – described in notebooks, for game in standalone-app and card-game / board-game forms, plus overview-blogpost
metaframework for EA toolset (generic frame plus plug-ins) – described in notebooks and various blog–posts
card-game for the 'This' game – described in notebooks and blog-post
The blunt fact here is that all of these tools for enterprise-architectures are about to be lost forever – because, without support, I can't afford to do anything about them or with them any more.
And no, I'm not joking. I cannot afford to support enterprise-architecture any more, if it – and you – won't support me in doing so.
Unless, in the very near future, I get some support – some very real, solid, tangible, immediate support – I'm going to have to walk away from it all, and accept that that part of my life's work has been, to most other people, a complete waste of time.
Kinda dispiriting, to say the least.
So if you want anything to be rescued from that trash-bucket, you're going to have to move fast – because it ain't gonna be there much longer.
It's your choice now.
If you're interested, you know where to get in touch with me, and we can talk more about what might be worth completing, and how to make it feasible for me to do so.
If not, that's fine too. You won't miss it. Not until it's too late, of course – but by then it will already be too late.
Over to you.